Calvin student to compete in Rio Paralympics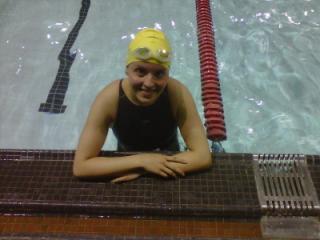 Junior Nydia Langill is currently in the process of training for a swim meet like no other she has participated in before. This summer, Langill will shift from the Olympic-sized pool of the Venema Aquatic Center, to the Olympic-sized pool in Rio de Janeiro to compete in the 2016 Paralympics from September 7-18.
Langill, whose home is in Mississauga, Ontario, began swimming as a young child because of post-surgery therapy that required her to practice walking in the pool. Her goal to make it to the Paralympics evolved shortly after starting para-swimming, a sport for individuals with physical disabilities.
"I have been dreaming about going since I was 10," she said. "So to see that dream come to pass now is really still surreal. I mean everyday it sets in a little more that I am actually going. But when you dream about something for so long, there is just a part of me that just thinks it's the most natural thing in the world. But I still can't believe it."
In 2014, Langill made her first national team, representing Canada at the Pan Pacific Championships and last year she again sported the red maple leaf cap at the IPC World Championships in Glasgow and the Para Panam games in Toronto. Since then, Langill has continued to train long-distance with her coach back in Canada. This year they put an emphasis on training using a weight program in the gym.
"It doesn't matter what level you are at, you can always be better," she said.  "So my coach and I were always working on new things; what can we improve. The last couple years we just add a little more, do a little more, because you can always be better and you can always do more."
In order to make the Paralympic team, Langill competed in the Canadian Olympic and Paralympic trials in early April. Competitors are selected for the team based on their final's times, world ranking and an additional point system. Although the trials were a cause for nervousness, Langill expressed how she viewed the situation with optimism.
"I was nervous leading up to trials, because I knew it was something that only comes up once every four years," said Langill. "It's something you always dream about and train for, and so you hope that everything comes into place and that everything you did will pay off. … Talking to other people I think we were all in the same boat where we hadn't slept in two weeks, and leading up to the games,  I just told myself, I am going to stay positive or I am going to be quiet."
In addition, Langill shared that in anxious situations she asks God for peace and is calmed through a lot of prayer. One of Langill's close teammates and friends also made the team and will be joining her in Rio. Together they developed a motto that aided them through training and trials.
"For my birthday, she mailed me a shirt that said 'devoted to the moment,'" Langill said. "That became the phrase during all these months and the moment of competing for trials. Because it's just a moment, it goes by really fast. The hundred meter breaststroke is less than two minutes. So it comes down to that moment."
In Rio, Langill will be competing in the 100 meter breaststroke and the 200 meter individual medley. If she places in the top eight during preliminaries, then she achieves her goal of making it to finals. Until the games, Langill will return to Canada to train with her home team, mostly having individualized practices with her coach.
The official announcement of the Canadian Paralympic Swim team will take place on July 14 during the ceremony where Langill will receive an official marker of her achievement.
"What I have always dreamed about is getting a Paralympic ring," she said. "Olympians and Paralympians alike we each get a ring for the games we compete at. It will be a ring with the Paralympic symbol on it."
As Langill makes her way down to Rio, her parents along with several extended family members will be accompanying her. The Paralympics swimming games will take place after the Olympics swimming in the same venue that holds 15,000 spectators and the event will be broadcast online through a livestream.