Adia Victoria mixes art and politics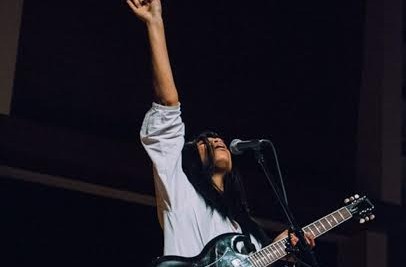 Up-and-coming blues-rock artist and cultural critic Adia Victoria performed at Calvin in the Recital Hall last weekend. The event began with a conversation with Adia about a number of topics, including the history of blues music and the intersection of arts and politics, particularly the Black Lives Matter movement.
The history and significance of blues music is somewhat disconnected in the wake of the resurgence of blues-rock through bands such as The White Stripes and The Black Keys. In its origin, blues music was the music of African Americans in the 1930s. The blues was the voice of the oppressed; it was music as protest. It is fitting then, that Adia Victoria would be playing the blues to channel her experience as an African American woman living in the south. "It was the first time in my life I felt pride in being a black woman … I felt rooted. I felt placed," Victoria said of discovering the blues and learning its tradition.
Later in the conversation Victoria addressed how politics and art are intertwined. She spoke of the Black Lives Matters movement and how blues music provided her a way to realize that truth. "I wanted to tell [my story] without a pop sheen to it. I wanted to tell it with the ugly and the nitty gritty. I believe as black people we should be afforded the full spectrum of our humanity and it shouldn't just play to the crowd," Victoria said.
After the conversation, Victoria took the stage with her band to show the audience what she meant when she spoke of the blues. The band tore through each song with conviction, bringing sharp-edged, in-your-face blues-rock. As a performer, Victoria takes on a commanding persona as she strikes back at the woes of her experience, tapping into a long tradition of African American artists and voices.
Adia Victoria is a rare talent and equally brilliant mind. The opportunity to engage and converse with an artist in addition to experiencing a performance is something unique to Calvin College, and Adia Victoria provided a perfect example of why it is important to do so. Her debut album, "Beyond The Bloodhounds," is set for release on May 13 on Atlantic Records.