Calvin student presents research on negative female portrayal in video games
Last spring, senior Mary Schultz contracted her "Social Problems" sociology class for honors, writing a paper on how Calvin students viewed "gamer culture." She asked 10 students to pick out 15 pictures that they believed represented gamer culture and explain them to her. Schultz submitted her paper to the Honors Contract Competition, which she won, and on April 12, she gave a presentation on her paper, titled "Representation, Hypersexualization, and Violence: Women in Video Games and the Media." At the request of one of her participants, Schultz used the terms "man participant" and "woman participant" rather than male/female.
While she stressed that her conclusions were to be taken with a grain of salt, given there were only 10 participants, Schultz noted some trends in what the participants focused on. All participants — no matter their gender — were critical of the presentation of women in video games. One of her man participants stated that "female characters are often extremely oversexualized, which is frustrating. At least in my opinion, you don't need that to play a game. You can just make that a normal person." Many expressed a desire for more women characters in general, and man participants brought up the hypermasculine stereotypes imposed upon male characters.
Additionally, all of her participants stated that they found Calvin's gaming community inclusive. Unlike online gaming, which the women participants noted was extremely sexist and aggressive (with the term "rape" used often to degrade other players), none of the players felt ostracized by Calvin's community. They felt welcomed there. Even when participants were not involved in online gaming, they knew enough about the hostility of said online culture (with multiple participants chalking that up to the anonymity one has there) to determine that Calvin was different.
Given recent controversies in the gaming world — Gamergate was only two years ago, and there has been heated discussion this month over the PC game Baldur's Gate — this comes at a particularly relevant time in the gaming community. Calvin strives to be an inclusive and welcoming community, and according to Schultz's research, it appears to have succeeded within its gaming community.
Schultz will be giving her talk again at Aquinas College on April 16.
About the Writer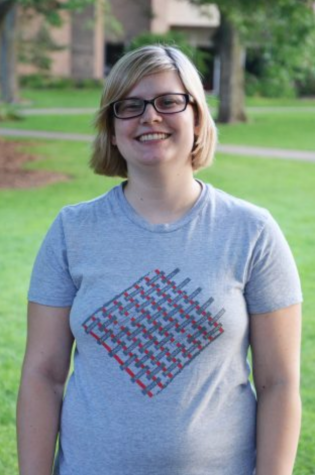 Kelsey Powers, Opinion and Editorial Editor
Kelsey Powers is one of the opinion and editorial editors for the 2016–17 year, after serving the same position last year. She's a senior from Kalamazoo,...