Women leave rivalry weekend with a win, men lose to Hope
Whether you're a fan of basketball or not, going to watch Calvin play Hope College in basketball in Van Noord Arena is always exciting. If you're someone who goes to basketball games regularly at Calvin, you see all sorts of Calvin students, alumni and fans alike. There were fans from countries around the world tuning into the games last Saturday. The magnitude of the rivalry is grand compared to the small size of both colleges.
Usually the men's and women's teams don't play Hope at home one game right after another, successively. This year the women's team was given more support than they may otherwise because of their time slot right before the men's game. You could see that difference as Calvin fans started to fill the seats in the second half of the women's game. That isn't to say that the women had no support. There were plenty of roaring fans celebrating the team's eventual victory over Hope.
Before we get into the resolution of both games, however, let's look back at the seasons the teams had heading into the big games. The women's team had been enjoying a very successful season, holding a 14-2 conference record. They picked up momentum in the beginning of January, winning 11 of their 13 games between then and their game versus Hope.
In their previous game they defeated Alma College decisively with a final score of 91-56. The only other game they played against Hope in the season, however, resulted in a 33-point loss. That night the Knights shot a very low 29.2 percent, nearly 25 percentage points behind their season average. It is safe to say that the Knights did not have the right touch, and head coach John Ross admitted that they weren't passing the ball the way they needed to in order to create better opportunities for shots to be made.
According to junior guard Anna Timmer, the team wavered from some of the things they had been sticking to for the entire season, and that the team "…realized that we should be proud of the Calvin ball we've been playing, just to go out and play the best that we can."
Oh, did they play.
Ranked third in the nation, some thought that Hope would once again roll over Calvin and clinch an undefeated regular season. The Knights had other ideas. Calvin never really pulled away from Hope in the first half, but they did begin with a quick 10-5 lead halfway through the first quarter after junior guard Lauren Goldthorpe knocked down one of Calvin's 12 three-pointers of the afternoon.
After sophomore Ali Spayde made one of her two free throw attempts, Hope responded with a layup to tie the game at 13 at the end of the first quarter. At this point the fans acted more like silent observers than wildly supportive and loud students. After Calvin scored off of back-to-back turnovers to bring their lead to 22-19, the fans started to make some noise. The rivalry atmosphere started to set in. After three-pointers from Timmer and Goldthorpe, Calvin brought their lead to 33-27 at halftime. The game remained competitive until the last second, but heading into the fourth quarter, Calvin had the momentum as well as a nine-point lead.
In the second half, senior guard Tiffany Karger went wild from beyond the arc. She made three of her five three-point attempts (5-8 on the game), the final one being the last nail in the coffin for Hope.
"I feed off my team, especially the starters," said Karger after the game. "When they're going, that gets me going. I think that we just want to live with no regrets, especially the five seniors. We wanted to go out with a bang and that's what we did."
Ross spoke after the game about the important role that Karger has played on the team in her two years at Calvin.
"[Karger] was exactly what we needed," said Ross. "We did not have a great shooter on our team last year and [Karger] gave us that spark and hit huge threes when we needed it to go on that run and have the great season that we had. She has done a great job the last few games and stepped up big for us."
Calvin's lead was extended to 16 with two minutes to play, and all Calvin had to do was play defense and make half of their free throws to earn the victory. And they did just that.
In those final two minutes Hope managed to bring Calvin's lead to just six points with one three-pointer after another, but senior Abby Springer made six of eight free throws. Timmer, Spayde and senior Kally Verkaik all made free throws in the final minutes of play as well.
As the final buzzer sounded, the Women's team all ran toward the center of the court for a very brief period to celebrate their momentous victory.
"Everyone went and got after it and it was one of the funnest games I've ever played," said Timmer after the game, who led the team with 18 points and also recorded five rebounds.
Verkaik shared her excitement for the team and the win as she explained what it meant to end her regular season basketball career with a victory against an undefeated Hope team:
"It meant a lot to me. I've been watching Calvin basketball for a long time and I've been here for four years and I couldn't have asked for a better group of girls to be surrounded by and it's just been a blessing to be able to play in this kind of facility and to play under Coach Ross."
Ross had nothing but good things to say about the group of five seniors on the team. He expressed his pride in them and the athletes they've been on the court, the students they've been in the classroom, and the people they've been in the Calvin community.
The coach also talked about how fun it was to be able to have Karger in one of his kinesiology classes this past semester. With a little laugh he also noted that she rightfully earned an A in the class.
Karger finished with 12 points against Alma, but it was most notably her effort against Hope (16 points, 15 off of three-pointers) that earned her MIAA Player of the Week honors for the week of February 15.
"I'm thankful we get to spend one more week with them — and hopefully even more than one week," said Ross.
Calvin has had to work now to practice for their game against Trine University this Friday at Hope's DeVos Fieldhouse. When asked how they will carry the momentum from their victory against Hope into the MIAA Tournament, Timmer said it was as simple as taking things one step at a time.
"[We need to] take it one game at a time," said Timmer. "This gives our team confidence that we're able to play against the best teams in the nation, just like I knew that we've been able to do all season. So just taking this and having confidence and swagger that we've been trying to have the whole season will be huge."
As celebratory of a time it may be for the women's team, the men's team has not been able to experience the same sort of joy.
The men's team had a season that flirted with success but the effort they wanted to put onto the floor never matched the final numbers on the scoreboard.
They were 5-8 in conference heading into the game last Saturday and 10-14 overall. They were coming off of a game three days earlier versus Adrian College (who finished just ahead of Calvin in the final conference standings). They came back from a 15-point halftime deficit to win 72-68 against them.
Head coach Kevin Vande Streek said that the team had two really good practices in between the Adrian and Hope games. Even though Hope was at the top of the conference standings, there's really no way to anticipate the outcome of a Hope-Calvin game.
With Van Noord Arena packed to the brim with both Calvin and Hope fans, the men's team put on their best show of the season and ended up falling just short of winning.
Though they trailed for a majority of the game, Calvin never gave Hope peace of mind in their score, and Calvin was in the lead at various points throughout the first half.
Junior forward Cam Denney made an early three-pointer to give Calvin a 7-4 lead. Later in the first half, senior Jordan Daley was fouled making a layup and subsequently made a free throw to shorten Hope's lead to two points.
At halftime, Hope extended their lead to seven, but Calvin would cut the lead to two after a three-pointer from sophomore Mike Siegel with 13 minutes left in the second half. It would remain close until the final seconds of the game. Denney was fouled with 14 seconds left and made both free throws to bring Calvin to within three points.
Calvin continued the intentional foul then retain possession approach until they ran out of time. In the end they lost a heartbreaker 65-61.
"I'm proud of our effort," said Vande Streek after the game. "I think we invested everything we had in the tank; we just aren't quite there."
Vande Streek went on to say how proud he was of his team and how much he enjoyed coaching them.
"[Austin Parks and Daley] have done a phenomenal job of leading from a leadership and play standpoint, and we're disappointed it's over. I really like this team. It's the fewest wins in my 20 years and I'd coach them again tomorrow. I just really like them."
Parks and Daley are two seniors on the team who played their final game for Calvin last Saturday. After the game Daley said he was trying to ignore the emotions he was feeling and embrace the moment. He wanted to use the opportunity he had to thank all of the family and friends who have supported him his whole life.
"I'm just trying to live in this moment for right now," said Daley. "Although it's not always the happiest moment, this is a once in a lifetime experience for this chapter of your life to end. So that's what I've been focusing in on more so than the emotions right now."
Parks explained that he also tried to bask in the last moments he had with teammates.
"Once it came down to the position when we were very unsure of the future, we cherished every moment that we had together. So to be able to feel that in a situation we were playing well also was nice and I appreciated the effort that these guys never gave up. Although things turned for the worse here and there, these guys continued to give us their all."
This year's men's team may not have achieved all of the goals that they set out for this season, but they gave fans one of the most exciting sporting events of the year.
About the Contributor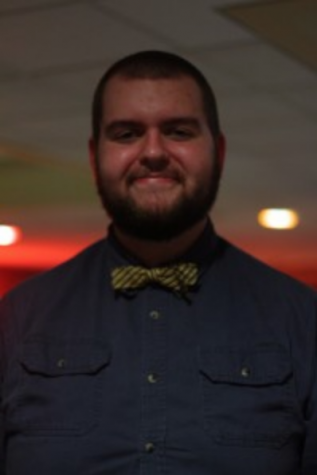 Mark Peless, Online Editor
Mark is the online editor this year, which means that he has control of everything that goes on the Internet. Last year he was the sports editor, so his...