"Hail, Caesar!" pays tribute to Hollywood Golden Age
Famed brothers Joel and Ethan Coen have long been considered by many to be two of the best writers and directors currently working, having created such films as "The Big Lebowski," "Fargo" and "No Country for Old Men." The brothers' release of their new film, "Hail, Caesar!," comes off their success from 2013's "Inside Llewyn Davis."
Set in the middle of a 1950s film studio production company, "Hail, Caesar!" tells of unruly movie star Baird Whitlock's kidnapping during the shooting of a biblical epic, and of studio head Eddie Mannix's frenzied attempts to deal with the ransom note that follows. The film is made complete with an all-star cast, including Josh Brolin as Mannix, George Clooney as Whitlock, Scarlett Johansson as America's sweetheart DeeAnna Moran, Ralph Fiennes as established director Laurence Laurentz and Channing Tatum as Burt Gurney.
"Hail, Caesar!" was made, in part, to serve as a tribute to 1950s Hollywood, and it depicts both the various genres made at the time and the complicated and dramatic inner-workings of a typical production studio. While the film takes pride in these elements, it's arguably to a fault. The film's emphasis on being a love letter to classic Hollywood places the narrative on the back burner, resulting in a story that feels rather underdeveloped and messy.
The film often transitions between story lines in a rapid and unconvincing manner, to the point where the film begins to feel unsure of where it wants to go or what story it is trying to tell. The results are a frustrating array of unconvincing character reveals and plot twists, as well as side stories that add nothing to the plot.
That being said, "Hail, Caesar!" never sinks to the level of "Intolerable Cruelty," the film most Coen brothers' fans agree to be their worst outing. Audience members can find more than enough to keep themselves interested for the duration of the film. The brothers have built a reputation on writing clever dialogue and absurd jokes, both of which are prominent during "Hail, Caesar!," particularly in the first half's witty and humorous character interactions. For instance, Alden Ehrenreich, depicting a John Wayne type of western icon who finds himself completely out of his element, gives the breakout performance of his career, along with Josh Brolin who lights up the screen with his charismatic energy.
While "Hail, Caesar!" can at times be fun and quirky, it fails to live up to the hype surrounding the release of other Coen brother films. Despite the entertainment provided by the dialogue and performances, the film ultimately lacks a cognitive story and often places emphasis on the wrong areas.
About the Writer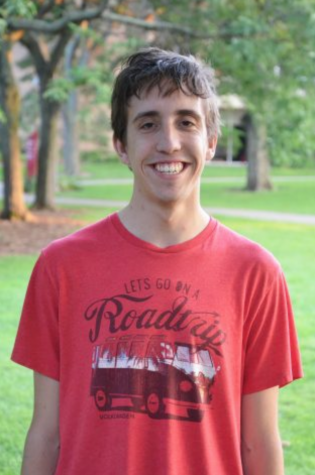 Brandon Schreur, Arts and Entertainment Editor
Brandon Schreur is the Arts and Entertainment editor this year. He's a junior majoring in writing and film studies. He's from Holland, Michigan, and...