Hockey Sweep Davenport, First in League Standings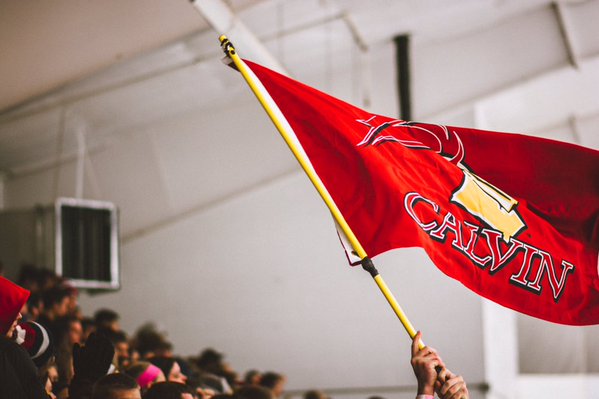 The Calvin men's hockey team currently has a 19-5-1 record on the season. The Knights have only lost one game in their league, which places them in first place in current league standings.
On Jan. 29 and 30, the Knights took on the Panthers of Davenport University. Calvin beat Davenport 8-0 on Friday night at Eagles Ice Center and then came back Saturday to defeat the Panthers 3-1.
In Saturday's game, junior Ryan Betts was the team's "Knight on the Night." Betts scored first for the Knights in the second period, assisted by sophomores Ryan Bradley and Noah Szenderski, and then again unassisted during the second period.
This weekend the Knights will face the Saints of Aquinas College to compete for the Michigan Collegiate Hockey Conference (MCHC) West regular season title.
"We are preparing no differently for this game than we would for any other game," said first-year student Sean Johnson, a defensemen for the Knights. "We just know that we have to go out and play the best that we can because Aquinas is a solid team."
Aquinas is just behind Calvin in recent league standings with two losses, one tie and three points below Calvin's 18 points. This is also the Knights' last regular season game before heading into the MCHC League Tournament, ACHA Regionals and Nationals.
"If we win this game, then we win the MCHC West which gives us more confidence heading into the biggest part of the year," Johnson said.
A win for the Knights would give them high seeding in the MCHC League Tournament.
However, the Knights are not looking too far ahead; rather, they are playing one game at a time. "We have not met any goals yet as a team. One of our goals is to win the league, and that can be achieved on Friday with a win," continued Johnson.
The Calvin hockey team will be playing Aquinas at Eagles Ice Center this Friday night, Feb. 5, at 8 p.m.