Calvin Knights flood Great Lakes Christian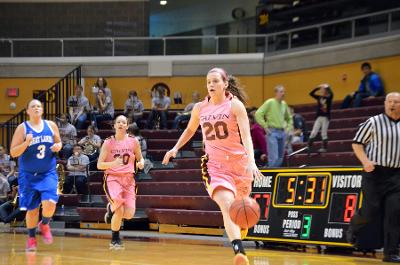 Saturday, Jan. 30, the Calvin women's basketball team worked together to hold Great Lakes Christian College at a minimal 18 points, with every player contributing a basket. The Knights were able to coast into a victory, while sinking 18 three-point baskets, breaking a Calvin school record.
This non-conference win moves the Knights to a 15-4 season record. With each player contributing baskets, four Knights broke personal records during the game. Rachel Warners achieved a career-high of seven assists. Anita VanderMeulen collected a career and team-high of seven steals and six rebounds. Jeana Sybesma reached a career-high of 11 rebounds, scoring 10 points. Natalie Voss scored 11 points, draining three three-point baskets and grabbing five rebounds and two blocks.
Voss, a sophomore forward from Stoney Creek, Mich., played a game she will not soon forget, leaving her mark on the Calvin court.
"I'm not sure I will be able to repeat that stat anytime soon," Voss said when asked how she plans to repeat these noteworthy stats in the upcoming games. "I'm more of a role player on the team. But I will work to encourage others."
Although this game may not have challenged the Knights like they are used to, it is still always nice to walk off the court with a win and gain even more confidence as the regular season draws to a close. The Calvin women are preparing for their conference game this Saturday against Trine and continue to look forward to the conference tournament and, of course, nationals.
In order to keep their winning record and maintain their momentum, it is important that the Knights continue focusing on each game, practice and tournament at a time. Spending time to ensure the general morale of the team is in good standing has a huge impact as well.
Voss plans on leading the team by "staying positive and encouraging everyone" as they come across tougher teams and as the end of the season comes to a close.
The team faces the Albion Britons on their home court this Wednesday at 7:30 p.m.