Calvin remembers men's basketball radio announcer Doug Wentworth
For five decades the voice of Calvin men's basketball was that of a firm yet kind Doug Wentworth, who passed away two weeks ago. Wentworth devoted his life to the people around him, and his voice in the Calvin community went beyond the waves of the radio.
Whether you listen to former players or his own colleague Gregg Bareman, Wentworth's legacy of love and strong faith is expressed in droves.
According to an interview earlier this year in February, it all began with a Christian upbringing from similarly devout parents.
Wentworth was born in Sturgeon Bay, Wis., so he understandably grew up as a Green Bay Packers fan. He also, however, was a big fan of the New York Yankees because of Hall of Fame Yankees radio broadcaster Mel Allen.
Foreshadowing? Perhaps. For Wentworth it seemed as though he was destined for a life in broadcasting. In high school his speech teacher told him that he had a good voice for radio.
His father drew attention to a small Christian school: John Brown University in Siloam Springs, Ark. It was there that he developed his skills as an announcer while working at an on-campus and local radio station.
In 1960 Wentworth came to West Michigan and began a 25 year stint at WJBL in Holland. In 1964 he would enter the Calvin community and announce men's basketball games on the radio, being the voice that illuminated the court for many years to come.
During his time in the booth, Wentworth was able to create many memories with colleagues, players and fans.
During an interview with Wentworth's friend, neighbor and longtime radio partner, Bareman had this to say:
"One thing that I've appreciated over the years in tagging along with you, maybe even more than sitting by your side at the ballgames and sharing a few stats, has been our rides back and forth to the games. I've learned a lot about you in that time that doesn't come out in the course of doing a ballgame. One of those things is that you are certainly a man of faith, a devoted husband and family man."
He went on to say that Wentworth was a man who endured much in life, including the death of his daughter, Susan. Despite that tragic loss he continued to live the life of a man determined to love and be committed to the people around him, including grandchildren and great-grandchildren.
Talking with Bareman, Wentworth maintained a positive attitude and even joked about an incident with star play Ken Fletcher in 1965. Fletcher attempted to take off his warmup pants and unfortunately his game shorts came off with them. This is something Fletcher liked to deny, but Wentworth assured Bareman that it was the truth.
Wentworth also reminisced on the memories he had of great Calvin teams including the 1992 and 2000 championship men's basketball teams. Aaron Winkle, an associate chaplain at Calvin, led that 2000 team. He mentioned fond memories of Wentworth and glowingly spoke of his impact on the Calvin community:
"I first met Doug during my freshman year, in the fall of 1996. Even then it seemed like he had been doing Calvin games forever. His voice became synonymous with Calvin basketball for many."
"He was kind, funny, and had an incredible memory for Calvin history," continued Winkle. "For many of us who played at Calvin he linked us with previous generations of Calvin men's basketball. Players came and went. Coaches came and went. Doug Wentworth stayed."
After his retirement in 2014, Wentworth had no ill will toward the repercussions of his declining health. He was simply appreciative of the time he was able to spend behind the microphone and remained faithful:
"Jesus is your savior, the most important thing that you can have and also along with that as you well know too, it's a wonderful thing to be raised by Christian parents. That is so important."
"So many great things have happened and I've met so many great people," Wentworth continued. "It's been such a blessing."
He finished the interview with a send off to fans. Though at the time it was in the wake of his retirement, it is also a fitting goodbye for a man who for 50 years was the voice listeners tuned in to hear.
"I just wanna say thank you. God bless you all. I miss you. Go Knights."
About the Writer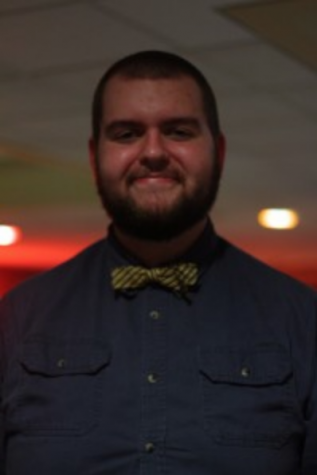 Mark Peless, Online Editor
Mark is the online editor this year, which means that he has control of everything that goes on the Internet. Last year he was the sports editor, so his...