Men's Basketball Clinches Conference at Albion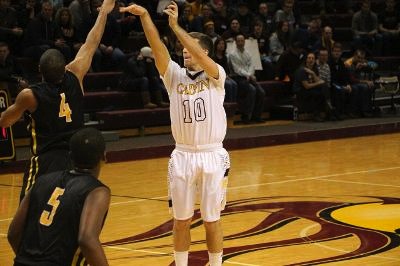 With knowledge and experience behind them, Calvin knows playing Albion will always be a dogfight. Calvin men's basketball earned their spot as the MIAA Conference Champions, defeating Albion on the Britons' home court 71-54.
Finishing 12-2 in the MIAA is not an easy feat, especially with a conference containing a lot of great teams. "It is always a special feeling to win the conference," said Brink, closing his last regular season conference game in his basketball career. "That is always our number one goal going into the season. It is very difficult to do."
Beating Albion was a great place to claim their Conference Champion title. The team played together and worked hard to come out with a win. "Albion is always a tough place to play," said TJ Huizenga, senior guard. "Any win on the road is really a great feeling."
Calvin improved their game-play from last week Wednesday's home game against Olivet to ensure a win against Albion.
Junior guard, Austin Parks, who led the Knights against the Britons with 15 points said, "We need to make sure we play each play with intensity, focus and passion. On Wednesday we didn't play a full 40 minutes worth of it, while Saturday we responded much better."
Junior Jordan Daley, sophomore Michael Welch and seniors Tyler Dykstra and Jordan Brink helped Parks overcome the Albion lead scorers, Corey Wheeler and Zach Hurth.
Knowing that winning it all will not be a piece of cake, the Calvin Knights are looking ahead to Thursday, Feb. 26, when they begin their conference tournament against the Alma Scots.
"I think playing consistent for a full game will be very important moving on," said Huizenga. "Tonight [Saturday] I thought we did that, but it will be essential to do it for the playoffs if we want to win."
With both the men's and women's basketball teams shining this season, living up to their expectations is the next step. In order to do this as the Knights look forward to their conference tournament, Parks believes that they "just need to stay focused on all areas of the game."
"We know that we will have a tough time winning if we aren't rebounding, playing tough defense and taking care of the ball," he said, "so we will make sure all week we are at our best in these areas."
The Knights have a tendency to "hang their hat on their system defense," as Brink put it.
Huizenga agreed, saying, "I think rebounding is something we need to work on — we gave up some offensive rebounds tonight and we need to limit those in the playoffs."
The team is sure that their season games so far, along with each and every practice, have equipped them well to take on the conference tournament with clear minds, steady hands and confident spirits. They also enjoy playing together, which adds to the chemistry of the team.
"I'm really proud of this group of guys and how we came together to win conference in the regular season," said Huizenga. "We beat some really good teams in conference this year."
The MIAA tournament begins this Thursday night at 7:30 in the Van Noord Arena, where the Calvin Knights will face the Alma Scots for the first semifinal. Hope College and Trine University will be playing the other semifinal at 7:30 on Thursday night as well.
If the Knights win the tournament, they will enter the Division III NCAA Tournament.