Tradition of Developing a Christian Mind continues
Every Interim, students in classes across campus discuss everything from humor to Jewish culture to democracy in Africa, all with a generous helping of kingdom perspective. This is Developing a Christian Mind (DCM), the required core class for first-year students that focuses on Reformed theology and its applications to every field of education.
Calvin College's desire to introduce first-year students upfront to its theological and educational perspectives is not new. According to history professor James Bratt, director of the DCM program, this initiative began when Calvin first adopted the Interim term in the late 1960s. First-year students took a class called "Christian Perspectives on Learning" (CPOL) during this new three-week January term.
"CPOL was a very regimented, one-size-fits-all curriculum and very much focused on developing a worldview," said Bratt.
When Calvin's core curriculum was last revised in 1999, CPOL became DCM. In this new program, each class covers common DCM material but also an additional topic related to the instructor's expertise.
According to Bratt, the idea was to "make the connection between the theological themes and the subject matter more organic."
Bratt stated that comments about redundancy between DCM and the fall-semester class for first-year students, called Prelude, led to creation of First Year Seminar, a reworking of Prelude that primarily focuses on the transition to college life in general. DCM remains focused on theology.
In her plenary talk to all DCM students on the first day of Interim, English professor Debra Rienstra explained that the purpose of DCM was to "let students in on what we're up to." Reformed theology is the "frame" in which Calvin classes operate, and DCM is supposed to ensure that students are aware of that.
"Ideally," said Bratt, "DCM wouldn't be needed because this would be happening in regular classes across the campus on a regular and predictable basis." According to Bratt, however, data from alumni surveys has indicated that most students didn't receive a clear presentation of "the Calvin project" of faith and learning in other classes.
Bratt continues to pay attention to student feedback on the class through course surveys and random sample of student "integration essays" that instructors give to him. These essays are a required part of the DCM exam and ask students to synthesize the DCM material with the other topics their individual section covers.
Originally, DCM included a required set of essays, the "DCM Reader," in addition to the "Engaging God's World" text by Cornelius Plantinga. Bratt said that, after five or six years of the program, this requirement was dropped to give professors more freedom over how they presented the material. The daytime film series and closer ties with weekend events sponsored by the student activities office are also recent changes.
Although "Engaging God's World" presents a structured view of Calvin's reformed approach to education, Bratt stressed that "this is not a catechism."
Bratt mentioned that Reformed tradition isn't simply one set of beliefs. "There are options in the tradition itself, and I encourage faculty to bring those up."
"What I hope that students get out of [DCM] is that the Reformed tradition is a set of commitments," said Bratt, "but the commitments are strong enough that it's open for questions and fresh engagement."
About the Contributor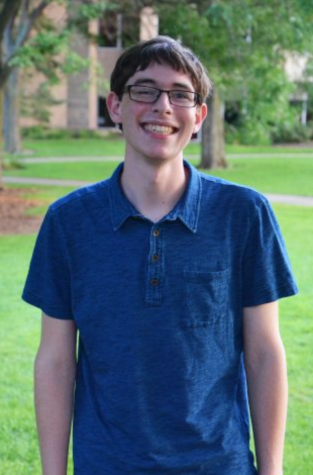 Josh Parks, Editor-in-Chief
Josh Parks is the Editor-in-Chief of Chimes this year after rising through the ranks as a copy editor, religion editor and then print editor. He's a...