Women's volleyball advances to Elite Eight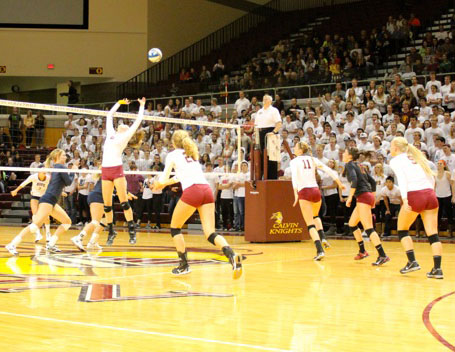 The Calvin community is welcome to sign up for our fan bus to follow the Knights to Virginia here.
The Calvin College women's volleyball team claimed the NCAA Division III Regional title for the third consecutive year this past Saturday, November 15, against Carthage in Wisconsin. Calvin won three of the four sets against Carthage: 26-24, 21-25, 25-20, and 25-13.
Junior Maggie Kamp once again had an over-the-top performance with 14 kills, 19 digs, and three service aces. She was named the regional tournament's Most Outstanding Player. Kamp is joined by first year Jenna Lodewyk and senior Ellie Diepersloot on the all-tournament team.
Diepersloot had 13 kills and sophomore Laura Danhoff had 10 kills along with five block assists in the match. Lodewyk had 41 assists for the game, while senior Elise Biesboer had 15 digs and first year Emily Blankespoor had 11.
Although Calvin ended up with nine service errors, they had 11 service aces led by Maggie Kamp who had three while Lodewyk, Danhoff, and Biesboer each had two.
This win advances the number one Knights to the national quarterfinals in Newport News, Virginia. They will go up against host, number nine ranked, Christopher Newport University, on November 21.
The Christopher Newport University Captains have a sixteen-game winning streak going for them. The Captains are a bit less defensive than the Knights with an average of 13.17 digs a set compared to Calvin's 16.45 digs a set.
At the net, the Captains line up pretty well with the Knights with 1.99 blocks per set compared to Calvin's 1.57. Christopher Newport also averages 13.17 kills per set, which is close to Calvin's average of 14.21 kills per set. Each team averages about 17 points a set.
The Captains glided past thirteenth ranked Eastern University in a 3-0 game this past Sunday, making them regional champions. This championship gives the Captains five titles in the past six years.
The Knights are now 30-3 and CNU is 34-3 after advancing past regionals. Calvin has now hit the 30 win mark for the 14th time in school history.