Hockey remains on top of MCHC West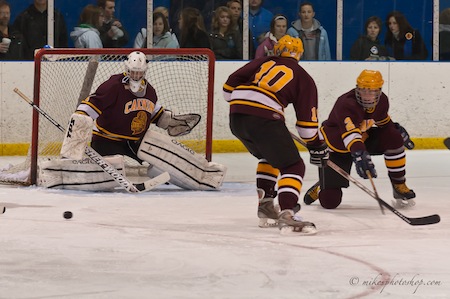 After splitting a two-game series with Grand Valley State University, Calvin still remains on top of the Michigan College Hockey Conference (MCHC) West with a record of 4-1-0 in conference and 9-1-0 overall.
Calvin has had an exciting season this year, scoring 52 goals in 9 games — an average of 5.7 goals per game. They have also conceded only 19 goals — an average of 2.11 goals against them in a game.
Offensively, sophomore Ryan Racanelli, a forward, leads the team with 11 goals scored, while three other teammates have each provided eight goals for the team. Fellow sophomores Jordan Duncan and Cameron Bell have 14 assists and are ranked in the top 30 in the American Collegiate Hockey Association (ACHA) for offensive points.
Defensively, Matthew Kuyvenhoven has done his best to defend the goal and has blocked seven shots so far this year. In goal, three first-years have gotten playing time. Alex Zion has been called upon the most, playing goalie in five games. Zion has a record of 4-1 and has made 131 saves on 142 shots. Zion also has a save percentage of 92.5.
Offensively, Calvin's biggest game so far had them face Indiana Tech on the road. They won the game 10-2. They also earned a defensive win against the strong Grand Valley State University — GVSU ranks number two in the ACHA north — holding the team to only two goals. Calvin had a big game against Holy Cross as well, shutting them out while scoring eight goals.
Next up for the Knights is the rivalry series against Hope College. They head to Holland on Friday night, and then wrap up the series with a home game at Eagles Ice Arena at 7 p.m. on Saturday.