Men's Fourth Place Finish Par for the Course – Freshman Van Noord Ties for First
The Calvin men's golf team traveled to Kalamazoo for the fourth MIAA Jamboree of the season on Monday, September 22. The team finished in fourth place with a total team score of 308 strokes.
The Knights finished just four strokes behind rival Hope College's score of 304, and eleven strokes behind tournament champion Trine University's total team score of 297 strokes.
This comes after a second place finish in a tournament hosted by Albion in which the Knights battled to stay in the chase in the overall standings. Prior to the tournament, Calvin was only eight strokes behind league-leading Hope. After Monday, Calvin is now in third place in the overall standings behind second place Trine and — remaining in the top spot — first place Hope.
Despite the Knights missing out on the top three team scores by a mere four strokes, Calvin freshman John Van Noord (Troy/Oakland Christian HS) had another strong showing with a final round score of 71, enough for a first place tie in the individual category.
Seven strokes behind was fellow freshman teammate Ben VanScoyk (Grand Rapids/Grand Rapids Christian HS) and junior Justin Crow (Grand Rapids/Grand Rapids Christian HS) who sported scores of 78 each. Rounding out the men's team was the elder Van Noord, senior James Van Noord (Troy/Troy Athens HS), and junior Jason Zeigler (Mount Gilead, OH/Gilead Christian HS), who each finished with final scores of 81.
The performance of freshman John Van Noord has impressed many, as noted by coach Brian Bolt after the tournament, and lends to even more promise in for the future.
"He has a complete game, but what I have been most impressed with is his vision and decision making on the course," said Bolt, "This is very impressive, and I think he has even more potential in future tournaments."
Though the result may not have been ideal, the consistency shown by freshmen J. Van Noord and VanScoyk is promising. The team, however, will need to work better together if they wish to remain relevant in the overall standings.
"We have been good enough to stay in contention, but we'll need to be better as a team during the second half of the season," mentioned Bolt. "All of us are practicing and working to get better at specific shots that are giving us trouble, but our approach to the game is as or more important."
The Knights will look to improve upon their play as they head to Zollner Golf Course at Trine University on Saturday, September 27.
About the Contributor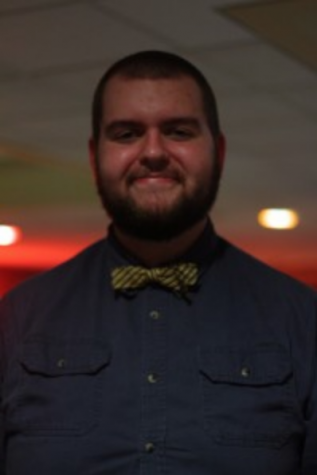 Mark Peless, Online Editor
Mark is the online editor this year, which means that he has control of everything that goes on the Internet. Last year he was the sports editor, so his...