Knights defeat Hope, head to NCAA tourney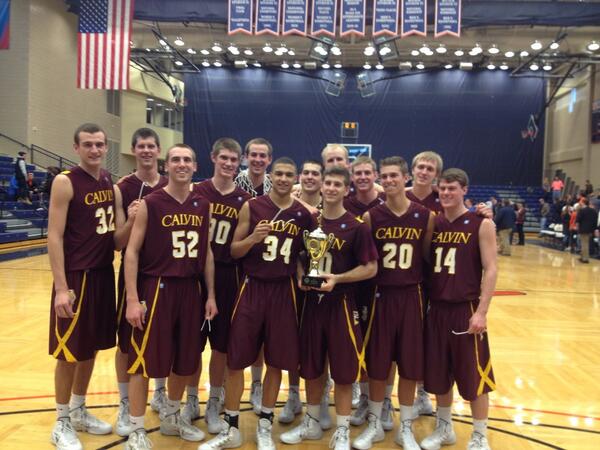 The Calvin College men's basketball team avenged two losses to Hope College during the season on Saturday, routing the Dutch 78-53 in Holland at the MIAA Tournament final. The win earns the Knights an automatic bid to the NCAA Tournament.
Jordan Brink led the team with 21 points, and Tyler Kruis added 18 with nine rebounds. Tyler Dykstra had three blocks. Nate VanArendonk was the top performer for Hope, recording a double-double with 10 points and 12 rebounds.
Similarly to the previous two games against Hope this year, Calvin got off to a rather slow start.  Hope jumped out to a 13-2 lead in the first five minutes, and the Knights started the game 1-for-13 from the field and were still only shooting 35 percent at the half.
However, this time they were able to overcome their struggles rather easily, mostly due to a suffocating defense and an efficient second half. The Knights fought their way back to a five-point lead at halftime and pulled away in the second half as Hope struggled.
After lighting it up from three-point range in the team's first two contests, the Dutch's shooting came back down to Earth on Saturday, which proved to be an insurmountable obstacle. They shot only 3-for-16 from long range.
"We played about as well as we could play. It's a great reminder to our guys that who does the dictating is usually successful," said head coach Kevin VandeStreek in an interview with Calvin Sports Information's Mark DeHaan. "Even early on I liked how intense we were playing. We were attacking the basket and doing a good job defensively, and then shots started to fall."
The Knights finish the regular season with a 22-5 record, and look forward to the Monday announcement of their opponent in the first round of the tournament via the NCAA's selection show.