Men's Basketball scouting reports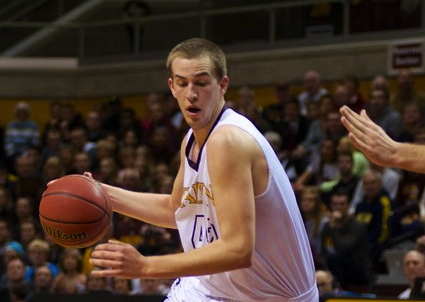 Starters:
Jordan Daley, PG/SG (#34)
Strengths:
Athletic: a big guard who excels at taking smaller guards to the rim and posting them up. High-energy defender who forces lots of turnovers. Efficient: a great free throw shooter and smart player, who only takes good shots.
Weaknesses:
Not a great ball handler, turnover-prone. Still learning aspects of playing point guard — it's his first year at the position.
Jordan Brink, SG (#12)
Strengths: Great shooter from deep, both off the dribble and in catch-and-shoot. His ability to create his own shot often bails out his team. High basketball IQ: good passer, good shot selection.
Weaknesses: Not exactly a lock-down defender. Isn't always as aggressive on offense as he should be.
Tyler Dykstra, SF/PF (#32)
Strengths:
Elite athlete: great finisher in transition and on cuts. Calvin's best defensive player: his quickness, height and long arms mean opposing perimeter players are better off not even trying to score on him. Fantastic weak-side shot blocker.
Weaknesses:
Work in progress on offense. A little turnover-prone and poor jump shooter. Might be better suited to play at power forward, but logs most of his minutes at small forward.
Mickey DeVries, PF (#24)
Strengths:
Super high-energy big man. Capable of providing a spark any time he steps on the floor. Great rebounder and shot-blocker. Very athletic for his size.
Weaknesses:
Doesn't really have a reliable post game. Spends a lot of his time in foul trouble.
 Tyler Kruis, C (#42)
Strengths:
Skilled big man with wide variety of offensive moves. Has range on his jumper even out to the three-point line. Draws a lot of fouls and is a good free throw shooter.
Weaknesses:
Lean frame means he can get pushed around by opposing big men. Occasionally coasts: he could probably average more rebounds and blocks given his size.
RESERVES:
Austin Parks, PG/SG (#10)
Strengths:
Attacking combo guard with a scorer's mentality. Deep range on his jumper, he can take over a game if given the chance. Great free throw shooter.
Weaknesses:
Not a great ball handler or distributor yet: he really just plays at the point because of his size. Still has work to do to become an above-average defender.
Daniel Stout, C (#40)
Strengths:
Rock-solid big man on defense. Can lock down the paint by himself. Crashes the offensive glass at a very high rate. Much improved passer, and player in general, on offense.
Weaknesses:
Inefficient for a center: he falls in love with his jumper. Needs to tone down his aggressiveness on defense on occasion