Volleyball to host celebration of players and fans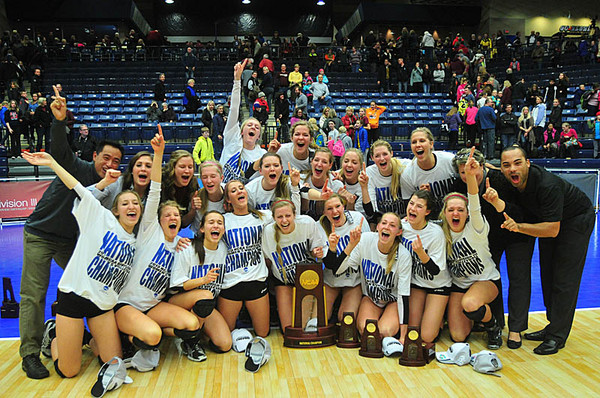 The Calvin College volleyball team will celebrate their national championship with a year-end banquet this Saturday that will be quite different from a typical year-end team gathering. Titled "A Knight to Remember," the celebration will incorporate other Calvin students and fans at a level not previously seen.
Director Nancy Meyer said that the fans were "such a big, such a visible part of the team's journey that it warranted something celebratory, but also something that would be inclusive and affordable."
According to Meyer, accessibility was a key component for a successful event. "We wanted a communal experience, one where anybody could go, but mingling with the players was also possible."
This was accomplished by creating two kinds of admission: one free and one that would be $6 for Calvin students and $10 for the public.
Paying the fee allows you to sit in the lower bowl of the Spoelhof Center and have your fill of desserts. For those who opt for the free admission, there will still be popcorn and refreshments in the upper section of the stadium.
The event will also feature different events and speakers from your typical year-end banquet. Calvin president Michael Le Roy and sports information director Jeff Febus are slated to speak along with coach Amber Warners. Division III National Player of the year Megan Rietema and teammate Stacey Kamp will also speak.
Also, championship rings will be presented and the national championship banner will be hung along with the typical fare of video highlights.
All fans of the team are encouraged to be present. Meyer hopes to get as many students, faculty and staff to the event as possible to "make this incredible season come full circle." It will start at 6:30 for those who are paying for the desserts, with the awards and speakers kicking off at 7:30.