Calvin softball looks forward to beginning new traditions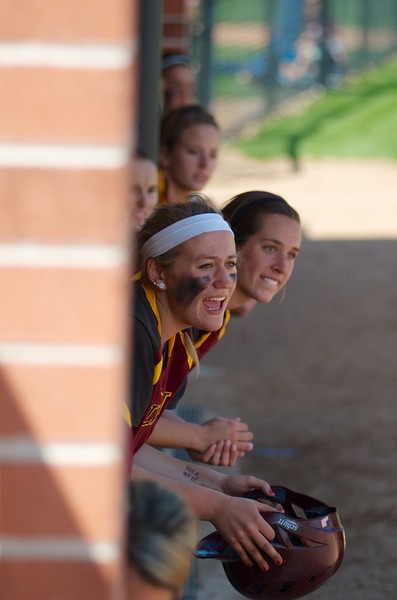 After finishing fifth in conference at 8-8 and going 17-13 overall, the Calvin Knights softball team is looking to compete with a new attitude and a new coach.
Coach Tim Syrek is a native of Grand Rapids and has served as a coach for various high school teams as well as serving as an assistant to the District 2 Big League softball team (read his bio here).
Coach Syrek plans to use his players' unique skill sets to win games: "We are trying to use the talents we have and put them out there to be as successful as we can. We want to be a team that can bunt, move runners along, but we also have kids that can hit the ball over the fence."
Senior pitcher and infielder Lina Avila is one of those players who can hit the ball over the fence.  The career leader in home runs for Calvin and named to the National Fastpitch Coaches Association Division III All-Central Region second team for a second consecutive year, Avila provided the team with 6 home runs and 29 RBIs last season.
Her reflection on the past year provides insight to this year: "I cannot wait for us to come out and show how much we have grown from last year. It's going to be a great year."
Senior outfielder Ashley Jakus plays a balancing role to slugger Avila. Leading the Knights last season with 16 stolen bases and also scoring 24 runs, Jakus says she's not the only one to be afraid of: "This is one of the fastest outfields I've ever been a part of." The Knights hit .312 as a team and scored 175 runs last season.
Offense is balanced out by a good defense. Sophomore catcher Lydia Gildea knows that the Knights pitching staff combined with the defense will give them many opportunities to win.
"When our pitchers have faith in the defense behind them, it allows them to throw without hesitation or doubt. This fearlessness gives our defense more grounders and pop flies which will help us win game after game."
This confidence is deserved as the Knights compiled a .944 fielding percentage and a 3.43 ERA last season.
Each player reflects the goals and attitude of new head Coach Syrek through and through. Senior pitcher Caitlin Callow reinforced what her teammates said, adding, "Calvin softball is going places, we plan to start where we left off and have expectations to win and continue to improve. I know we have the talent."
The Knights play three nonconference games before heading down to Clermont, Fla. for a spring break trip. Coach Syrek will take things one game at a time. "We have to accomplish our first task before moving to the second."