Calvin women's basketball implements new offensive system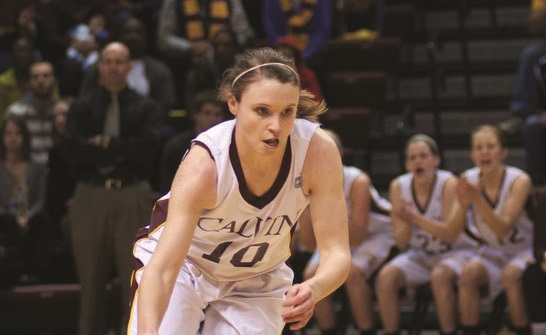 After playing five MIAA conference games, the Calvin Knights women's basketball team is not far behind the expected second place finish according to the MIAA Preseason Coaches' Poll.
Currently in fourth, the Knights are only one game short of sharing second place with 3-2 in MIAA play and 8-5 overall.
Head Coach John Ross can see the light. "We have to stay patient with each other," he said.
"We're starting to turn the corner hopefully right now … we have played a pretty tough schedule so far."
The tough early schedule against teams like nationally-ranked Davenport University and MIAA-leading Hope College gives the team a chance to adapt to changes in offensive and defensive strategies that have been implemented after losing six seniors, including three starters.
Senior guard Kirstin Tripp sees how the changes have benefitted the Knights. "Coach Ross totally changed his system from the half court focus to extending full court pressure to fit our athleticism," she said.
Coach Ross has implanted a dribble drive offense, which compensates for lack of height and utilizes the quickness of the Knights.
Guards keep the ball moving and the posts maneuver to be get open.  This offense enables the both the wings and post players to get good looks.
In a recent game against Alma, the Knights were able to force 36 turnovers in a 91-31 victory thanks to the aggressive defense they played.  Coach Ross saw more confidence from his team in the effort.
"We've made a lot of progress, and it feels like we are coming together," said junior guard Kayla Engelhard.
The team is inexperienced, but members are adapting to collegiate play and buying in to the team mentality.  Freshmen guards MacKenzie Shelton and Ann Timmer have both made appearances in every game this season.
Although both freshmen are offensive threats, they also look to contribute to the defense whenever they come in.
Junior forward Breanna Verkaik thinks a close loss to Olivet showed the effectiveness of the recent changes. "We all bought in to our system and it worked … we are proud of the effort in the second half. We just dug ourselves a pretty big hole in the first half."
The Knights scored 47 of their 73 points in the second half, falling only 5 points short of a victory.
After losing Carissa Verkaik, four-time All-American and two-time Division III National Player of the Year, Engelhard is pleasantly surprised to find that the team is threatening on the offensive end.
Breanna Verkaik leads the Knights in scoring with 165 points and Engelhard follows with 134. The team scores an average of over 75 points a game.  Engelhard has provided teammates with 39 assists and Breanna has 29.
When it comes to rebounds, the Knights are struggling as Breanna leads the team with 52, averaging only four a game.  They are getting out-rebounded by almost five rebounds on average per game.
Going into MIAA play, the Knights are excited for the potential they have.  Breanna knows that they write their own future.
"We still hold our own destiny to finish second in the league. Our number one goal is to continue to develop and make it to the MIAA tournament and put ourselves in a place where we have the opportunity to win it."
The Knights' next game is against Kalamazoo at home on Saturday, Jan. 18. The next match with Hope is in Holland on Feb. 1.