Cross country teams finish seventh, 27th at nationals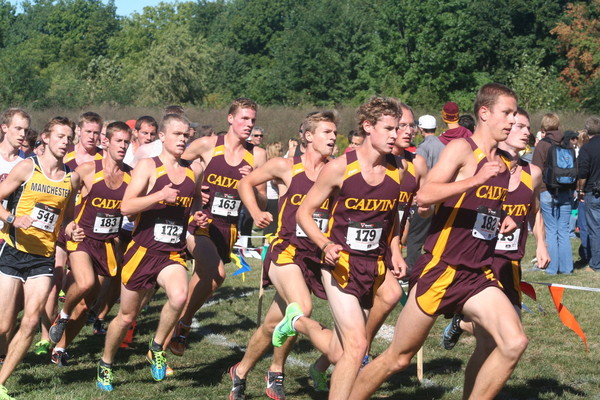 The 2013 NCAA national championships ended in disappointment for both the men's and women's cross country teams this past weekend.
Neither team accomplished all of the goals that that they set for themselves at the beginning of the year, but the teams were humble in their defeats and also in the individual victories that were won.
An underlying theme of the day for the Knights was perspective.
At the annual banquet held the evening after the national meet, coach Al Hoekstra addressed his athletes and their families, saying, "It would be crazy of me to sit here unhappy as a coach right now. The coaches of 400 other D-III teams would be thrilled to be in the position I am in right now."
Despite the lower finishes than were desired, the women placed seventh and the men 27th.  All of the coaches reminded their athletes how blessed they are to be at a place like Calvin where success seems to come so regularly.
The majority of the men's team came away from the meet with another perspective as well.
"This meet was just as tough as everyone said it would be," said sophomore Jeff Meitler. "It really is hard to understand what it is actually like until you get into the race."
The first finisher for Calvin was junior Josh Ferguson, who described his first national meet experience similarly.
"I went in expecting to feel uncomfortable, but it was different that anything I've ever done.  Everyone is there because they earned it and that makes it tough," he said.
Freshman Zac Nowicki, senior Philip Spitzer, Jeff Meitler, junior Steven Haagsma, senior Sam Kerk and junior Jacob Kuyvenhoven were the other finishers for Calvin, who will return five of the top seven next year.
"As a team, we had a good learning year. Experiencing this meet will help us a lot coming back next year, "said Ferguson.
The women's team was led by freshman Cassie Vince with her 23rd place finish, giving her All-American honors.
In 48th place was senior Nicole Michmerhuizen, the second Knight across the finish line.
Junior Kimby Penning, senior Alyssa Oram, sophmore Sara Danner, senior Rebekah Folkema, and freshman Lauren Brink rounded out the top seven.
"It's an honor to be an All-American and see my work pay off, even if its not exactly the finish that I wanted." said Vince. "I already can't wait to get back out there.  Today is definitely fuel for me and the rest of us to go to work again."
"It takes strength to make it all the way to the end," said coach Brian Diemer. "This makes it more amazing what Cassie did because it's especially tough for a freshman to make it all the way through."
Nicole Michmerhuizen finished out her Calvin cross country career with her best ever finish at the national meet.  She has been a strong leader on the course for the Knights over the past two years.
At the banquet she told her teammates that she was saddened to think that she had run her last race in a Calvin cross-country uniform because it meant that such a great and impactful portion of her life was over.
Diemer said that it is very important to take the positives from the season.
"Now both teams have a thorough understanding of how much we need to lean on each other.  It's not always accurate to measure the success of a team based on their nationals finish. You have to keep in mind all of the individual success that have taken place throughout the season," he said.