Men's basketball ranks on top of MIAA in preseason poll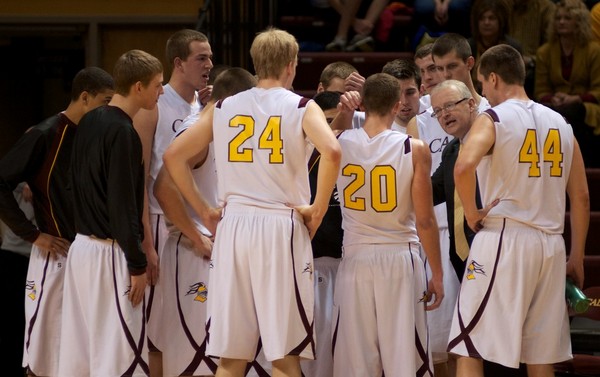 The Calvin College men's basketball team enters the 2013-14 season coming off one of their best years in recent memory, where they won 20 games for the first time since 2006, won the MIAA and advanced to the NCAA Tournament's round of 16 for the first time since 2005.
The Knights have the talent and depth to continue this success this year, but some players will have to step up. The biggest holes to in the roster were left by two prolific scorers who graduated this past spring: Tom Snikkers and Bryan Powell.
A key to maintaining this scoring presence will be junior shooting guard Jordan Brink, the only returning starter from the backcourt. Brink averaged 10.4 points per game last year and has been a consistent force for Calvin when healthy. Senior Jordan Mast and junior TJ Huizenga will also figure to receive significant playing time on the wing.
The starting point guard spot is still up for grabs, and finding a dependable replacement will be important for the team. Kyle MacDonald, a junior transfer from Jackson Community College, and sophomores Jordan Daley and Austin Parks, figure to be the main contenders for the job, but freshmen Danny Leach and Brad Visser are expected to garner playing time right away as well.
A definite area of strength for Calvin's team this year should be their frontcourt rotation, as the Knights return four players who received significant minutes during last year's run.
Senior center Tyler Kruis and junior power forward Tyler Dykstra are both returning starters. Kruis averaged 12.3 points and 6.0 rebounds a game last year and ranks among Calvin's all-time block leaders, while Dykstra has contributed significantly on defense in his first two years and should continue to develop.
Two other players who were effective off the bench and return this year are seniors Mickey DeVries and Daniel Stout, both skilled shot-blockers who will again provide a spark for the Knights. DeVries managed to average over five points and rebounds per game last year despite not starting.
The MIAA coaches certainly appear to respect this team helmed by 18-year head coach Kevin Vande Streek, as they were voted as the preseason favorite by the MIAA coaches' poll.
However, Vande Streek has told Calvin Sports Information that the schedule will be tough. "On any given day, someone could come up to knock you off," he said. "We're looking forward to the challenge. It should be an exciting year."