Women's soccer to battle for MIAA title with rival Hope College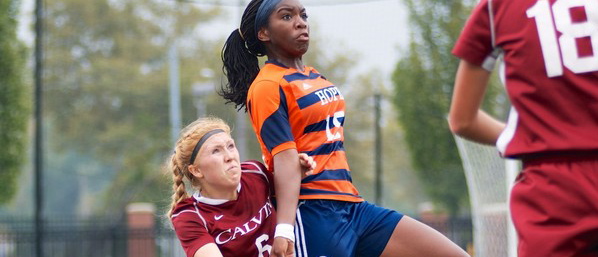 Two victories last week have placed Calvin's women's soccer team in a position to claim the sole ownership of the MIAA title with a win over Hope on Monday afternoon.
Currently tied for first with the Hope College Flying Dutchmen at 37 points each, the Knights will go toe to toe with the Dutch on Monday to see if either team will clinch the title or if Alma (36 points) can sneak ahead with a win and a Calvin-Hope tie.
Kickoff is scheduled for 3 p.m.
 Calvin will have to find a way to score on Kat Dickinson, who has a .61 goals against average, and hold off the attack of the Flying Dutch. Hope has scored 41 goals on the season while allowing only 13.  Calvin has scored 53 while allowing 14.
But to get to this point, Calvin hosted the Kalamazoo Hornets in the first game of the week. The teams were evenly matched on the scoreboard at the half — neither team conceding a goal. In the second half, the Knights were able to create more chances since they took 11 more shots than they did in the first half.
Paige Capel assisted Kelly Koets in the third minute of the half to break the tie and give the Knights the lead. The Hornets scored a late goal, but it was after Capel had given the Knights an insurance goal less than 10 minutes earlier.
After losing to Adrian in their previous match, this win brought the Knights back into first position in the conference.
The Knights then headed to Olivet looking to retain their position.
The Knights were aggressive, taking eight shots in the first half. Heidi Scholten was able to put two shots on goal in the first half, but it was Sydney Kinney who found the back of the net for the Knights. Off of a corner, Kinney curled the ball towards the near post with enough spin to get past the Olivet defenders.
After that, neither team conceded a goal for the rest of the game as defense took over. Ashton Hearn made two saves in the process of keeping a clean sheet for the Knights. This game was Hearn's 29th shutout of her career.
Hearn received Capital One Academic All-District team honors during the week.
In goal, she has recorded 56 saves in just over 1,550 minutes, only allowing 12 goals, which makes for a 0.69 goals against average (GAA) on the season.