Men's cross country wins 27th straight conference title, women win eighth of last nine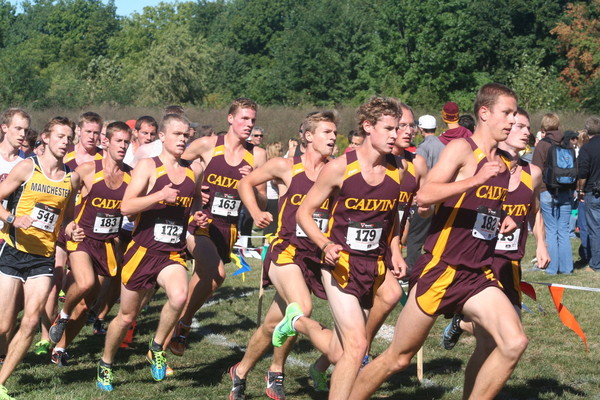 The men's and women's cross country teams both took home first place trophies at the MIAA championship races this weekend, as well as 18 all-conference plaques between the two squads.
On a soggy course at the West Ottawa Golf Club, the women have now finished atop the MIAA for the second straight year and the men for an incredible 27 years.
The women scored 21 points, never letting second-place Hope get into the race and challenge for the victory. Freshman Cassie Vince led the way for Calvin with the individual victory, 11 seconds ahead of second-place finisher Sheri McCormack of Hope.
"Cassie showed maturity today," said coach Brian Diemer. "She was patient and moved at just the right time to get the victory over McCormack who had a very good effort today."
Third, fourth and fifth place were senior Nicole Michmerhuizen, junior Kimby Penning and senior Alyssa Oram. Also finishing in the top 15 for the women were junior Sara Danner, freshman Lauren Brink and junior Paige McGahan.
After the race, coach Diemer expressed his confidence in the pack behind Vince.
"The pack really stepped it up today which was necessary in order for them to stay out of range of the Hope pack," he said. "Penning really stepped it up and sparked Oram and Michmerhuizen to fight through that race."
The team seems to be in great shape heading into regionals and nationals in the upcoming weeks. The Knights are fully equipped with a couple of front-runners and a solid pack backing them up.
Vince talked about the confidence that she has in her teammates as they move on.
"Even though I can't always see where they are in the race, I am always very confident that they are giving 100 percent," she said. "This really pushed me and Nicole to run as hard as we can."
The men's team scored 28 points, sealing the the win.
They improved on their MIAA Jamboree finish by 10 points and had twice as many top 10 finishers. Junior Josh Ferguson paced the Knights with a third place finish while freshman Zac Nowicki and senior Philip Spitzer were close behind in fourth and fifth place.
Sophomore Jeff Meitler and freshman Nate VanHaitsma completed the scoring for Calvin. Senior Sam Kerk and junior Steven Haagsma rounded out the top seven.
"The pack was extremely successful," said Diemer. "Ferguson and Spitzer ran brilliant races, really stabilizing that pack. This is exciting because I think that we are going to keep gathering around that — we are picking up some steam."
The next competition for the Knights will be at home on Nov. 16 when they host the Great Lakes Regional meet.