Protestant Reformed students face theological differences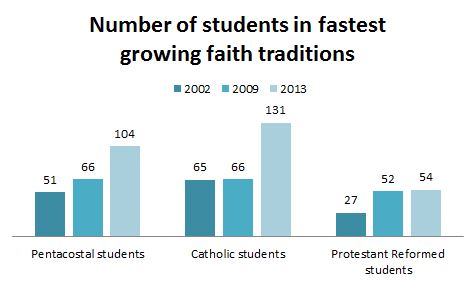 Distinct differences in the Protestant Reformed Church (PRC) and the Christian Reformed Church (CRC) make attending Calvin challenging at times for PRC students, yet some PRC students find that these differences strengthen their faith.
Junior Rachel VanderWall, who has belonged to the PRC since she was two, explained why she decided to enroll at Calvin.
"There aren't any colleges explicitly affiliated with the Protestant Reformed Church," VanderWall said. "Calvin has a really good nursing program and I wanted to come for that. I also wanted the Christian atmosphere."
Sophomore Andrew Peterson explained one of the main theological difference between the CRC and PRC.
"From the PRC standpoint, the elect (chosen) … are the [only] ones who receive the saving grace of God. We don't have any power over whether we get the grace or not. The CRC believes in the common grace, the undeserved grace that God gives to all [people]. [This] explains why people who aren't saved or chosen by God still do good works."
VanderWall explained that she doesn't agree with all of Calvin's theology, and these differences in views can be a challenge for her. She gave a few examples.
"Calvin comes at a lot of issues from a postmillennial view, like the kingdom coming to earth. I'm an amillennialist and I think that Christ's reign on earth is figurative."
She also talked about Calvin's view of women in office, which contradicts the view held by the PRC.
"I don't believe that women should be pastors," VanderWall said. "I think the Bible is very clear about that."
However, she explained that the differences have strengthened her faith.
"My faith has grown because it's been a challenge. I'm not saying Calvin is doing a bad job and keeping people from being Christian," VanderWall said. "But because there are different views, I have to find out what I believe and why I believe it. I'm hearing different things from my church and from my school — I'm forced to go back to the Bible and figure out what it says."
VanderWall has invested in Calvin's community, despite her difference in theological perspectives. She serves as a resident assistant in Schultze-Eldersveld, and she enjoys engaging with people who come from different denominational backgrounds.
"When you're around people that believe the same things as you all the time, then you grow in a certain way, but then being around people that don't believe in exactly the same thing, God can use that in really awesome ways," VanderWall said.