Serving problems cost volleyball first loss of season against Hope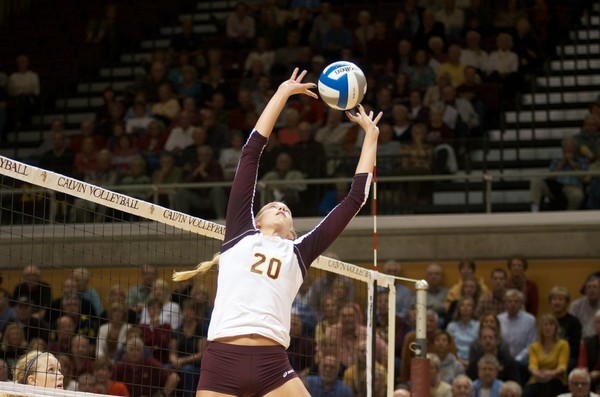 The No. 1 ranked Calvin Knights suffered their first loss of the season, falling to second-ranked Hope College Friday night in a nail-biting five-set match.
"Hope showed up ready to play and we did not respond the way we should have," says sophomore Maggie Kamp.
Serving proved to be crucial in this match as Calvin committed 15 serving errors and Hope earned 10 serving aces.
"They served tough and took us out of system while a lot of our attempts at aggressive serving resulted in errors," said Kamp. "The combination of our unforced errors and their solid play is what cost us the game. Our team could have improved our play in all aspects and kept a higher confidence during the game."
The two rivals began the night with Hope winning the first set 25-17 after a slow start by Calvin. The Knights, however, remained unfazed by this and came back strong the next two sets, taking each one with scores of 25-22. After a long back and forth battle in the fourth set, the Flying Dutchmen answered Calvin's two-set win streak and sent the match to the fifth and final set, only the second five-set match Calvin has seen all season. Unable to break Hope's momentum, the Knights lost the final set 15-7 at Hope's arena.
Calvin kills were not a problem for the night as Maggie Kamp earned a total of 16 kills, freshman Laura Danhoff had 15 and senior setter Megan Rietema had a near triple-double performance. Rietema tallied nine kills, 39 assists and 13 digs. Junior Stacey Kamp chipped in with seven kills while senior Kristen Zietse had 12 digs.
This victory by Hope was their first against the Knights since the 2010 MIAA Tournament finals and ended their eight-match losing streak to Calvin.
"The loss was a good wake up call for our team," said Maggie Kamp. "Next time we play Hope we will be prepared for anything and ready for a tough, fun match."
Calvin will face off this coming Wednesday at their home court against St. Mary's at 6 p.m.