Women's cross country wins meet, men top regional rival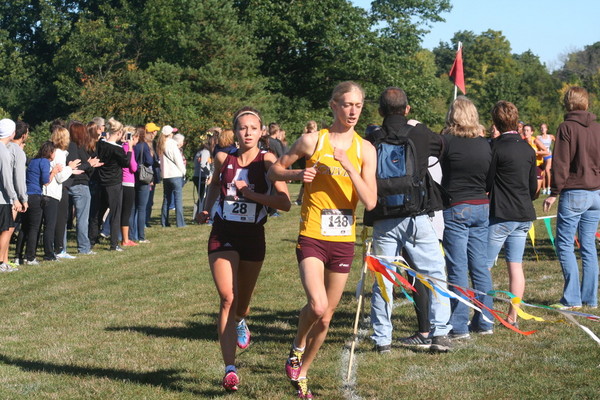 For the second year in a row, the women's cross country team won the UW Oshkosh Invitational. On Saturday, Oct. 19, the Knights finally got their first cool racing weather of the season. The women took advantage of the perfect weather, scoring 71 points to No. 6 ranked University of Chicago's 120.
The Knights were led by freshman Cassie Vince with a fifth place finish. Right behind Vince was senior Nicole Michmerhuizen in seventh place. Junior Sara Danner, senior Alyssa Oram, junior Kimby Penning, senior Rebekah Folkema and freshman Lauren Brink placed 14th, 17th, 28th, 31st and 62nd, respectively.
"I think that this was really the first time that we have had everybody fully prepared and healthy. We were just mentally and physically ready to step it up and I think that we did that today," said Michmerhuizen after the race.
The women are heading into the championship season on a good note. Vince and Michmerhuizen seem to be back at full strength, and the reliable middle pack is carrying the team in search for victories at the MIAA and Regional Championships.
Coach Brian Diemer said, "The fact that we had both Cassie and Nicole running well and in there right away sets us up as a contender for a top five spot in the nation. We also had some really good support in Danner and Oram. The way they aggressively attacked the race shows that we have the firepower to keep this going."
The men's team made some strides in the right direction as they beat the first ranked team in their regional, Wabash, by one point. The Knights took seventh place overall. Pacing the men was freshman Zac Nowicki with a 23rd place finish. Seniors Sam Kerk and Philip Spitzer and sophomore Jeff Meitler finished within a couple of seconds, while junior Josh Ferguson rounded out the scoring 15 seconds behind the pack. Freshman Jonathan Schaap and junior Jacob Kuyvenhoven were the sixth and seventh finishers for the men.
"The men took a nice big step today. They beat Wabash by one point, proving that we can accomplish our goal of winning the regional. Wabash is a tenacious team but we have the talent; if we bring our best we can beat them again," said Diemer.
Moving on from here, the key for the Knights is going to be consistency. The squad has struggled all year with consistency and is working to get it right in time for the most important races of the season. "We have some tweaks to make in our race strategy," said Diemer, "but if we get it right we have the potential to win the regional and set ourselves up nicely for the national meet."
Both teams will have two weeks off to prepare for their next competition, the MIAA Championship at Hope College on Nov. 2.