Sharon Bytwerk to step down from service as spiritual director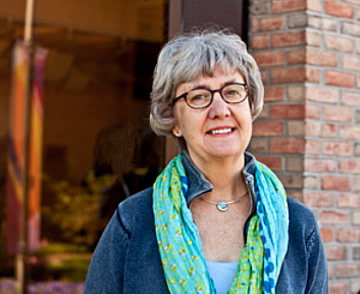 Sharon Bytwerk will be stepping down from her position as Calvin College's spiritual director after serving for seven years. Her husband, Randall Bytwerk, communications professor and co-chair, will retire the following spring.
"I wanted a chance to get used to a schedule without a framework before it was both of us getting used to [it]," Sharon explained. "Two years ago it would have seemed very scary or wrong," but God has gradually been giving her "a strong sense it's time to leave."
Bytwerk's role has included leading silent retreats, organizing prayer walks for college leadership, facilitating open and closed prayer groups, one-on-one meetings with students and staff and hosting lectio divina in chapel.
"It's not like I offer it; I receive it as much as anything," Bytwerk said. "These years at Calvin have been a tremendous gift for me. They've given my life purpose and framework and joy and relationship, and they've made the years fly."
The feeling is mutual according to many members of the Calvin community.
"Joining a prayer group with Sharon for a semester was one of the best decisions I've made at Calvin," senior Brianna Mulder said. "Through her, I learned better how to sit in silence, wait for the Lord and listen for his voice."
"I rarely leave her office without being reminded of how wonderful our Lord is, how silly we humans are and how great it is to be loved by our maker," alumna Chrissy Lutke said. "Her presence and the Lord's presence within her radiate peace."
"Many students note how God shows up in a special way when they talk to Sharon," Jared Votaw, residence director in Boer-Bennink, said. He further explained that Bytwerk has a gift for "listening to God while listening to me."
Bytwerk was Calvin's first spiritual director, a role she felt nudged towards after the death of her twelve-year-old daughter in 1996. After Kate died "the presence of God was so real, and I did not have a place to talk about it," Bytwerk recalled. She took classes on spiritual direction at Marywood Dominican Center for three years and then spent two at Calvin Seminary before approaching Chaplain Dale Cooper.
"I told him that my desire [was] just to be available to pray with students — [to] hear whatever they wanted to say without judging them, and just sit and pray with them and lift them up to God," Bytwerk said. "Surprisingly, Coop hired me!"
In the years following Kate's death, the position brought Bytwerk healing through relationships with young women.
"Any female who walked in was immediately my daughter, and I could desire the best for them so deeply." Through tears, she explained, "I have had seven years of absolutely beautiful relationships with young women. That is so outrageously healing and outrageously a demonstration of God's care for me and the reality of God."
As to what's next, Bytwerk is unsure. She has considered a few volunteer opportunities, perhaps working with other retirees.
Students and staff alike will miss Bytwerk dearly, but they send her off with their blessing.
"She has given me so much encouragement, support and prayer over the years, and I know others will benefit from that no matter where she goes," said junior Lyndsay DeGroot. "Her love for Jesus is contagious, and she has shared it at Calvin — now it's time for her to share his love in a different setting and life stage!"