Men's soccer holds on to MIAA lead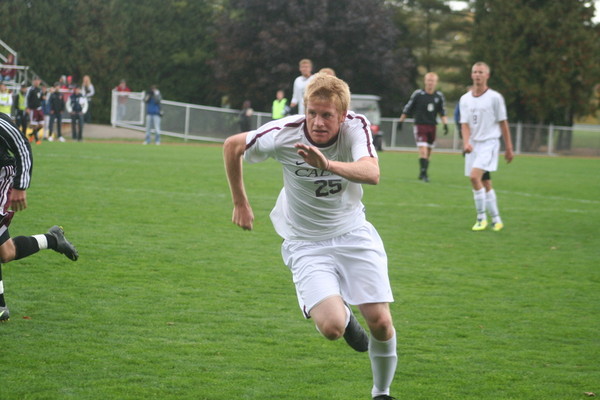 Hang on for a minute...we're trying to find some more stories you might like.
The men's soccer team defeated Olivet 4-3 on the road last Tuesday.
The Knights started out the game with a quiet first half, only scoring one goal. Sophomore Sam Hanover settled a pass from junior Sean Broekhuizen and slotted the ball into the lower right corner of the net.
The second half was a scoring frenzy as the Knights scored two goals in the first four minutes. Senior Ben Honeycutt found Broekhuizen for a header in and two minutes later junior Travis Vegter found senior Zach Willis, who put the ball in the lower right corner to give the Knights a 3-0 lead.
Olivet then made up two of those goals during the remainder of the half and tried to tie up the game by moving a defender to offense.
Calvin benefited from this move though, and in the 87th minute, freshman Stephan Hooker passed a ball up to Vegter who made his way around the center defender and ripped a shot into the goal, his 13th of the season.
Olivet scored its third goal in the 90th minute; the Knights were able to hold off any other advances by the Comets for the remainder of the final minute.
The Knights then hosted the Hornets of Kalamazoo, trying to work off the momentum they had built up in the previous game. Kalamazoo surprised the Knights by defeating them 3-0. This is the first Kalamazoo victory at Calvin since 2002.
The Knights outshot Kalamazoo 19-9 but the Hornets were strong on defense and made the most of their shots.
The Knights are leading the MIAA with 12 points. Hope, Alma, Kalamazoo and Adrian all have nine points in the race to advance to the MIAA tournament.
Vegter is currently leading the MIAA in points with 27.
He is also one goal ahead of Nick Minshall of Adrian for the lead in goals.
Sophomore Taylor Pruis is leading the MIAA in assists with seven, two ahead of the next contender.