Knights place high in mixed division race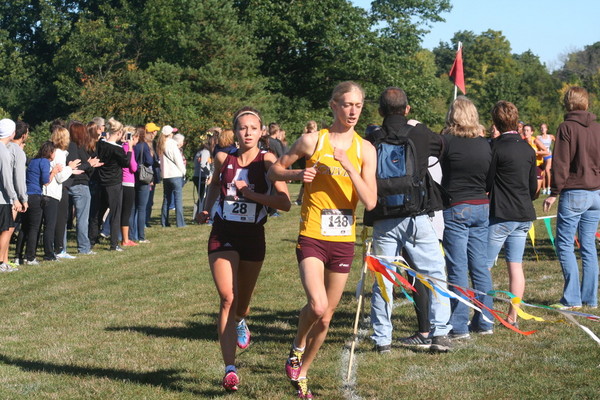 Hang on for a minute...we're trying to find some more stories you might like.
At the Notre Dame Invitational last Friday, the men's and women's cross country teams took 13th and seventh place in fields that were almost entirely made up of Division I and Division II teams. Over 20 teams were packed onto the starting line and through a tight bottleneck 400 meters into the race. In both races, the Knight packs got stuck behind a slew of other runners in the opening stages and were forced to maneuver through a crowded field on a muddy course.
Coach Brian Diemer said after the race, "These are necessary races to go to. You have to challenge yourself against the best. This meet is one of the important building blocks for the end of the season."
The women came into the race shorthanded due to injuries sustained by a couple of the top runners. Despite being understaffed and having a slow start, the pack managed to work together to make it back into the top half of the race. For the second week in a row, they were led by senior Nicole Michmerhuizen who seems to be bouncing back nicely from an early season calf injury. Seniors Rebekah Folkema and Alyssa Oram were the next two runners in for the Knights. Following closely behind them were juniors Kimby Penning, Sarah Danner, Kate Ardinger and Rachel Folkema.
"We have a lot of coming together to do before the end of the year, but today we managed to weather through the tough competition and come out OK," said Diemer.
The men were led by freshman Zac Nowicki, who was the fourth freshman finisher in the entire race, proving once more that he is one of the top freshmen in Division III. Senior Sam Kerk was the second finisher for the Knights and is continuing to make steps at getting back into top form after suffering a shin injury this summer. Following him was junior Josh Ferguson, senior Philip Spitzer, freshman Jonathan Schaap, junior Jacob Kuyvenhoven and freshman Nate Van Haitsma.
"It is important to look at the best competition and get a perspective of where we are," said Diemer. "We were pushed to the limit, but managed to make it through. Kerk is making great strides at being able to lead his team through regionals and into nationals."
The men placed one spot behind Wabash, the only team ranked higher than them in the Great Lakes Region. The teams won't meet again until regionals, which will be held at Calvin on Nov. 16.
"We need to develop a strong middle pack and consistency if we want to beat Wabash and win the regional," Diemer told the team after the race.
This Saturday, Calvin will be sending a number of runners to the Michigan Intercollegiates at Hillsdale College.