Men's soccer falls to Loras College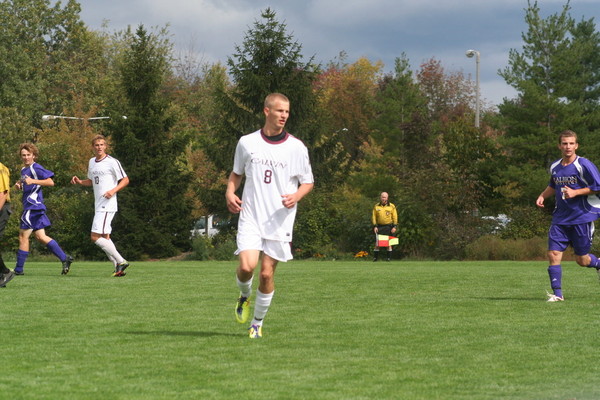 Hang on for a minute...we're trying to find some more stories you might like.
The men's soccer team traveled to Milwaukee to play in the Raider Classic hosted by Milwaukee School of Engineering. They took on No. 3 Loras College in the first round on Friday and losing 3-2. Loras, a national semifinalist last year, took a 1-0 lead at the end of the first half.
Calvin junior Travis Vegter tied up the game six minutes into the second period. He was assisted by senior Ben Honeycutt. Vegter dribbled into the box and beat the keeper at the far post.
Eight minutes later, Calvin gave Loras the lead by heading a ball into their own goal. Loras added to the lead eight minutes later with a free kick that bounced over the head of junior goalie Andrew Claucherty and landed in the goal.
In the 76th minute, Vegter proved key again, dribbling into the box and finishing it, scoring to bring the score to 3-2. That was Vegter's fifth goal of the year, and he is the only Knight to have scored so far this season. Loras had an 18-5 shot advantage over Calvin.
The Knights were scheduled to take on host Milwaukee School of Engineering on Saturday, but the game was canceled due to lightning.
Vegter was named the tournament's most outstanding offensive player due to his two goals against Loras. He was named to the all-tournament team along with freshman Stephan Hooker.
The Knights have a break until next Tuesday when they host Hope at 4:30 p.m. to start the MIAA season.