Women's soccer starts out season with a 5-0 win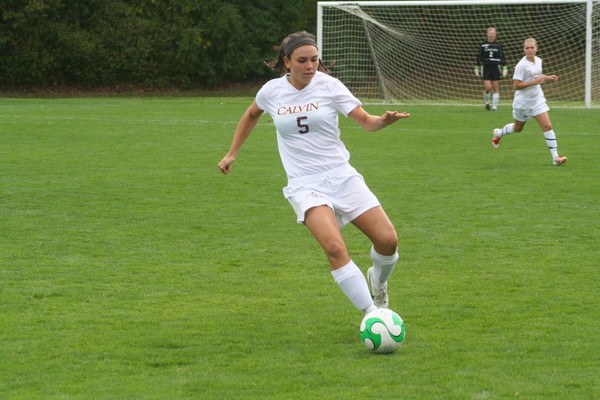 The Calvin women's soccer team got its season off to a fast start Saturday morning, scoring a goal less than a minute into the game and not looking back on their way to a 5-0 victory over visiting Montreat (North Carolina) College.
Sophomore Paige Capel opened the scoring on a header pass from freshman Allie Corp just 55 seconds into the match. Corp headed the ball into the middle of the box where Capel stepped up and slotted the ball past the keeper for the 1-0 lead.
Sophomore Taylor TenHarmsel continued the scoring in the 10th minute. Senior Kelly Koets slipped past two defenders on her way to the baseline. Spotting TenHarmsel at the top of the six-yard box, Koets put a pass right at TenHarmsel's feet, who put the ball into the back of the net.
In the 13th minute, Koets scored a goal of her own, facing the keeper one-on-one off a cross from sophomore Sydney Kinney.
Calvin's final goal of the first half came from sophomore Christina Drost. Capel beat the keeper to a pass at the top of the box, passing the ball off to Drost. Just a few yards off the end line, Drost put the shot in from a difficult angle, finding the side-netting to send the Knights into halftime with a 4-0 lead.
In the second half, Calvin added its fifth and final goal in the 67th minute as Taylor TenHarmsel scored her second goal of the morning off a pass from senior Heidi Scholten.
Calvin outshot the Cavaliers 16-4. Senior Ashton Hearn earned the win in net, playing 67 minutes without facing a shot. Freshman Emily Lawson saved one shot in 23 minutes of play to complete the clean sheet.
"Our offense has the capacity to be very dangerous," said head coach Mark Recker. "You watch and see how we spread the field and move the ball, sometimes short passes and sometimes wide and/or long entry passes; it is a challenging offense to manage defensively. It is a great beginning point and the game proved more to us than we thought it would."
The Knights now look forward to a pair of tough games next weekend against Loras (Iowa) College and North Park (Illinois) University.
"With each challenging game, we're going to learn a lot more about ourselves," added Recker. "One thing that is clear to me is that this team has the ability to play some good soccer, and that is what I'm excited about."
Calvin will travel to the Milwaukee School of Engineering for next weekend's games. The Knights face the Duhawks of Loras at 5 p.m. Friday evening and return to the pitch Saturday evening to play the Vikings of North Park at 6 p.m.