Women's Tennis beats Trine and St. Mary's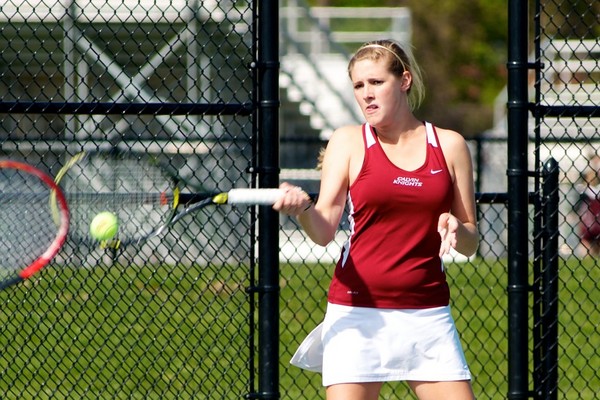 Hang on for a minute...we're trying to find some more stories you might like.
The women's tennis team had two conference matches this past week. On Monday, they competed against the Trine Thunder.
The first doubles team of junior Bethany Zoerhof and sophomore Megan Visser defeated their opponents, as did third doubles team Ali Roode and Samantha Reitsma, both sophomores. Second doubles team of seniors Elise Doezema and Jordan Ipema narrowly lost to Trine 8-6.
Ipema, Roode, Reitsma and Doezema all won their singles competition to bring the Knights to win 6-3.
On Wednesday, the team played St. Mary's. Third doubles team of Reitsma and Roode won Calvin's only doubles victory of the day. Visser, Roode, Zoerhof and Doezema all won their singles matches giving the Knights a 5-4 victory over the Belles.
The Knights are currently fifth in the MIAA standings. They play again on Friday at the MIAA tournament.