Women's golf finishes season fourth in MIAA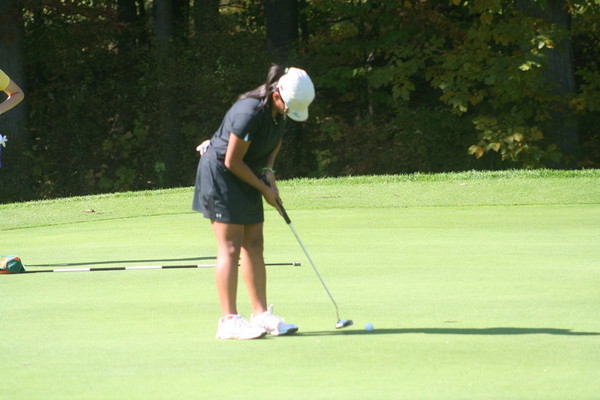 Hang on for a minute...we're trying to find some more stories you might like.
The Calvin women's golf team finished their season this week, taking fourth at their qualifier tournament this week and scoring 359 overall.
Host team Olivet took first place on Saturday and in the overall spring standings and will represent the MIAA in the NCAA D-III Tournament next month. Calvin's top individual finisher on Saturday was junior Carlia Canto with an 81 for fourth place.
She was followed on the Calvin squad by senior Elise Doezema with an 86 while freshman Sarah Arendsen had a 92 and freshman Casey Harkema and senior Rachel Whitaker rounds of 100. Olivet had a team score of 322 on Saturday.
"Unfortunately, our team struggled to match our team or individual averages," explains senior Rachel Whitaker. "Day one saw most of the team in the 90s with Carlia Canto being the only one in the 80s. Day two we were able to bring our score down a bit with both Carlia and Elise shooting in the 80s. Carlia truly had a stellar round shooting an 81. Elise was able to shave 10 strokes to a solid career-ending score of 86."
"While we came in fourth place for the season, the team has a solid lineup moving into next year," says Whitaker. "Carlia Canto is a solid golfer and leader who can help the team of young talent reach the goal of making it to nationals. Lots of practice this summer should help the team. There are a few new recruits coming in next year who should help with any consistency problems. Honestly, we have a great group of girls who are amazing golfers and who deserve to play at nationals. I look forward to coming and watching them play and win next year."