Men's tennis leading conference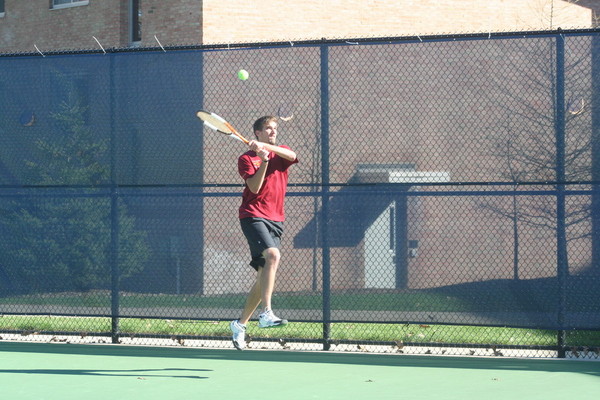 The Calvin men's tennis team improved their record from 9-2 to 11-3 after playing in three matches this week.
The Calvin men won their sixth consecutive match Tuesday, defeating the Trine Thunder 6-3 in an MIAA dual meet. Calvin won all three doubles fights, but two of the three were close calls.  Calvin seniors Preston Phillips and Phil Reinken defeated the Thunder 8-5 at first doubles.  Senior Brian DeMaagd and junior Loukas Peterson took down Trine in the second doubles 8-3.
The Calvin third doubles team of senior Jarrod Brower and junior John Strikwerda ended with a win of 8-6.  The two MIAA foes split the six singles flights with Calvin winning at second, fourth and fifth singles.  Phillips knocked off Trine 6-0, 6-3 at second singles.
Peterson prevailed 6-0, 6-2 at fourth singles.  At fifth singles, Brower came out on top with scores of 6-2, 7-5.  Reinken won the first set at third singles, but was unable to close out the match and fell 5-7, 6-1, 6-4.
"I think we played well for the most part," says junior Stephen Healy. "Solid wins against Alma and Trine were a good way to way to start our conference schedule."
However Calvin's men were unable to carry on their winning streak to first match of the MIAA/NCAC Challenge hosted by Hope and Calvin and were defeated by the Little Giants of Wabash College. The Knights fell behind early, winning just one of the two doubles matches.
"Playing well in the doubles has been key for us all year," comments Healy. "We need to make sure we go out on court with a mission to sweep all the doubles positions. When we have done that, we have been very successful as a team. In our loss to Wabash that was a problem."
Despite falling short their first match of the day, the Knights got back to their winning ways against Ohio-Wesleyan that afternoon. Calvin won all three doubles matches, surrendering no more than four games. Phillips and Reinken defeated Ohio 8-4 at first doubles. DeMaagd and Peterson took the match 8-2 at second doubles. Brower and Strikwerda picked up an 8-3 victory at third doubles. Calvin needed only two singles wins to seal the deal. DeMaagd took the first 6-0, 6-1 and Peterson swept in and took the second 6-0, 6-0.
The men finished their week with a 5-0 win over Oberlin this Saturday.
With these games this week the men hope to have learned what they need to beat Kalamazoo and end their 76-year conference win streak.
"They [Kalamazoo] have held at least a share of the conference title since like 1936. However, to end their streak that means we will have to beat them again in the conference tournament along with winning the rest of our conference matches," explains Healy. "It's a tall order, but I think do-able."
Calvin's men return to MIAA play April 17 when they host the Adrian Bulldogs for a 4 p.m. match in Strikwerda Tennis Center.