Hot Seat: Loukas Peterson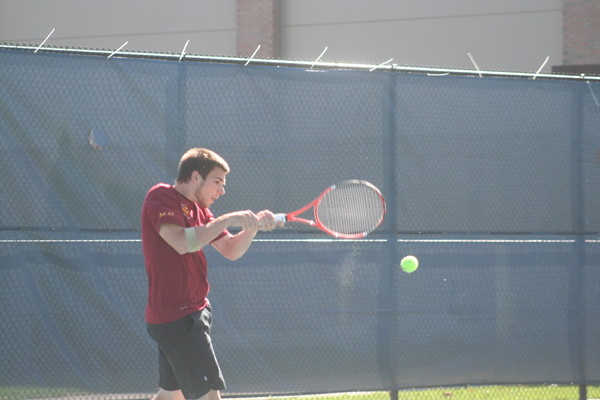 Tennis junior Loukas Peterson sat down with sports editor Jess Koster to talk about tennis' recent upset of Kalamazoo as well as other things. Peterson contributed to that victory by winning second doubles with his partner Brian DeMaagd. This is hot seat:
Koster: Tell us about yourself, how old are you?
Peterson: I'm 21.
Where are you from?
I'm from Brentwood, Tennessee, which is close to Nashville.
How many siblings do you have?
Five. Because of step-parents, I have one older biological sibling, and then one sibling who is my age who is a step-brother, and half-siblings who are 18, 16 and a four-year-old.
What is your major?
I am a mathematics major and I have a studio arts minor and a writing minor.
What brought you to Calvin?
The fact that it's a small Christian school where I could play tennis away from home.
What first got you interested in tennis?
My dad played D-I tennis at BYU for four years like 40 years ago, so there's that.
What's the best part about playing tennis?
The trips with the team.
What is your best tennis memory?
When we made history beating Kalamazoo a week ago. That'd be the best.
What are your interests besides tennis?
I'm a nerd. I like a lot of comic books and card games and DND and stuff like that.
What is your favorite color?
Green, no questions asked.
Favorite music?
My favorite band of all time is Rise Against.
Favorite book?
"Harry Potter and the Order of the Phoenix"
Favorite movie?
Lion King
Favorite sports team?
Kansas City Chiefs
What do you hope to do when you grow up?
Be a novelist.
What were some of your greatest tennis accomplishments before coming to college?
My team won state my senior year of high school.
How hard was it to adjust to college tennis coming out of high school?
College tennis is a lot harder than high school tennis. I didn't realize how much of a jump it was going to be.
What advice do you have for younger players?
Play a lot of matches, don't worry so much about practice.
If you had to pick one person, historical or living to have lunch with, who would it be?
That's a really tough question because there are so many people. I don't wanna give a boring answer. I'll just say Jesus because that would be cool.
Describe one of your most embarrassing moments.
At a tennis match, I closed a gate on my leg and got a huge scar up it because I just cut myself when I was trying to walk out. It was pretty pathetic.
Describe a perfect day.
No tennis. A day without practice I should say.
Do you prefer cats or dogs?
Dogs.
Best Calvin dorm?
NVW. Not that I lived there or anything.
What is one thing you cannot survive without?
Candy.
If you were stranded on a desert island, which of your teammates would you eat first?
Probably Tom Griffin. He's got the most meat on him.
Commons or Knollcrest?
Uppercrust.
Do you prefer long walks on the beach or quiet candlelight dinner?
Long walks on the beach.
What would I find in your refrigerator right now?
Eggs expired on Jan. 13 and celery that's brown.
What is the last book you read?
Cloud Atlas.
If you could trade places with any other person for a week, famous or not, living or dead, real or fictional, with whom would it be?
Roger Federer.
What is the last movie you went to see?
Uhh, "Argo."
If Hollywood made a movie about your life, who would you like to see play you?
Jake Gyllenhaal.
What is the best pizza topping?
I don't like pizza.
What came first, the chicken or the egg?
The chicken.
What is your pre-game ritual?
I listen to a lot of music. A lot of loud music.
What are your thoughts on beating Kalamazoo?
I had actually just lost, so I was trying to get rid of the fact that I had lost and the team had immediately won after that. So it was a mix of, "We just made history" and "I wanted to win." If I had won, we would have already won the match but I had to lose to let someone else win. It was exciting overall because we made history and I did it with my doubles partner of three years, Brian DeMaagd, so it was fun. It was a really big doubles victory for us.