Men head to Sweet 16 after beating Stevens Point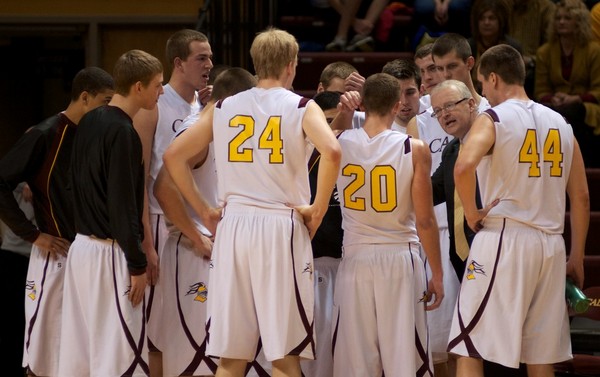 The men's basketball team is headed to the Sweet 16 for only the seventh time in Calvin's history after winning their second round game against Wisconsin-Stevens Point on Saturday 67-58.
"As far as being the seventh team in history to do this, it is an honor to be a part of such an elite tradition," says senior Bryan Powell. "We have found success because of our ability to perfect our individual roles for the better of the group. This is truly a special team and despite all the attention, we need to remain focused for the remainder of the tournament."
Over the weekend the boys traveled to Stevens Point, Wisconsin to play for a spot in the Sweet 16 against host team Wisconsin-Stevens Point. Despite Stevens Point scoring first, the Knights were able to come back and grab the lead the rest of the first half, keeping it close and never leading by more than 6 however. After going into the locker room up 29-25 at the half, the Knights never surrendered their well-earned lead and began to slowly pull away from Stevens Point halfway through the second half.
"We actually did not play our best," says junior Tyler Kruis. "Our team can play way better than what we did. To win next time we need to keep playing our game, play together, and play with toughness. If we do this I think we can go even farther."
Sophomore Jordan Brink led the Knights offensively, putting up 21 points for the team. Senior Tom Snikkers ended with 14, Kruis had 10 and junior Mickey DeVries chipped in with 9. The Knights out-rebounded Stevens Point 38-31 and ended with a better shooting percentage for the night, shooting at 33.3 percent from the 3-point line and 46 percent for their total field goals.
In their first round of the Sweet 16 the Calvin men will be traveling to top-ranked St. Thomas on Saturday.
"I'm not worried about St. Thomas at all," says Kruis, "They are a very good team, but they have more to lose as the number one team. Also I think we are just as good if not better. So I'm really excited to play them."
"St. Thomas will most likely be the best team we have faced all year," says Powell, "but this is what the tournament is about; to be the best you have to beat the best and we are confident that we can do just that."