Hot Seat: Kathryn Wrobel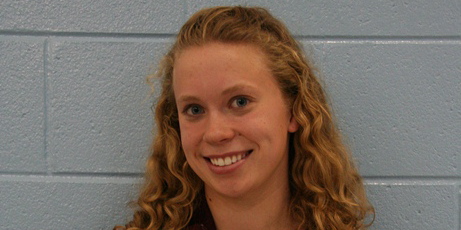 Jess Koster sat down with sophomore Kathryn Wrobel from the women's swim team. She was on the winning 800-meter freestyle relay at the MIAA championship meet. She was named All-MIAA for the second year. This is Hot Seat:
Koster: How old are you?
Wrobel: I am 19.
Where are you from?
I'm from Arden Hills, Minnesota.
How many siblings do you have?
I have one older brother.
What's your major?
I'm a bio-chem major with a psych minor.
What brought you to Calvin?
The combination of athletics, Christianity and academics.
What first got you interested in swimming?
My mom was a swimmer and I really excelled through swim lessons and so she was like, "do you want to try it?" and then I just fell in love.
What is the best part of swimming?
I think the team. Swimming is seen as an individual sport but the team atmosphere with training and competing together is great.
What is your best swimming memory?
Probably. When I was 11, our relay won like the 11-and-under state championship. That's when I really fell in love with swimming.
What do you do in your free time?
I like to cook a lot and I like to run and just hang out with friends and family.
What's your favorite sports team?
Minnesota Twins.
Favorite movie?
That's a tough one. I like Finding Nemo, Legally Blonde and Remember the Titans.
Favorite books?
The Harry Potter series.
What do you hope to do when you grow up?
I either want to go to med school or grad school in neuroscience.
Who were your influences growing up?
My mom and my dad and then I have a really good family friend, Deb, who has really influenced my life.
What is your fondest memory of swimming at Calvin?
I think this year when our team won the ninth straight MIAA Championship just knowing I was part of a legacy not only me and the team but like a legacy.
If you had to pick one person, historical or living, to have lunch with, who would it be?
I don't know. I guess President Barack Obama.
What is one of your most embarrassing moments?
When I was growing up, I did dance with my best friend and I completely just screwed up the dance recital and I did the wrong move at the wrong time and everyone was just staring at me.
Dogs or cats?
Dogs.
What is the best Calvin dorm?
Bennink.
What is one thing you cannot survive without?
Italian food.
If you were stranded on a desert island, which of your teammates would you eat first?
Umm… Shelby Cloyd.
Commons or Knollcrest?
Knollcrest.
Long walks on the beach or quiet candlelight dinner?
Long walks on the beach.
What is the last book you read?
The Casual Vacancy by J.K. Rowling.
If you could trade places with any other person for a week, living or dead, real or fictional, who would it be?
Umm… I guess like Abraham Lincoln.
What's the last movie you went to see?
"Jack Reacher."
If Hollywood made a movie about your life, who would you like to see play you?
Blake Lively.
What is the best pizza topping?
Sausage.
What came first: the chicken or the egg?
The chicken.
What is your pre-swim ritual?
Uhh… I eat pasta. I like blast my music either in my dorm or in my house and just get really pumped and excited.
What kind of music do you listen to for your ritual?
Usually just pop music, but I really like Taylor Swift or "Remember the Name."