Track and field victorious at Trine Invitational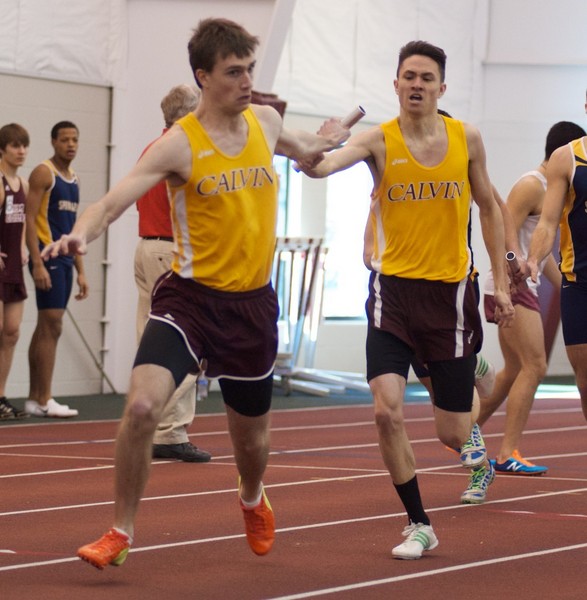 The Calvin College Track and Field team did what they were planning to do: win the Trine Invitational in Angola, Ind., the equivalent of the indoor conference championship. The women's team won six events while the men were victorious in four.
​The most dominating performances came from the men and women in the distance events. Junior Nicole Michmerhuizen and senior Dan Kerr ran away from their respective fields, and both are hoping to qualify for nationals. The men took the top four spots in the race consisting of seniors Kerr, Job Christiansen, Dave VandeBunte and Junior Phillip Spitzer.
​The 3,000-meter also saw a lot of Calvin runners near the top. Senior Alyssa Penning made her indoor track debut, winning the race in 10:29.
"It is good to be back out there and get in a hard effort," Penning said after the race, "The atmosphere was great having the whole team together, and it was good to see everyone excited."
Sophomore Paige McGahan ran as well, finishing with a personal best by seven seconds.
​Senior Gabe Gunnink has been coming on strong of late and was able to drop the field and win the 3,000-meter with a personal best time of 8:51. Sophomores Steven Haagsma and Jacob Kyvenhoven placed 3rd and 4th, and senior Matt Vander Roest returned from an injury that has kept him off the track this season to place 5th overall.
​The mile was taken out by senior Greg Whittle and he never looked back, easily defeating the field in a time of 4:18. He has already been to nationals twice in the mile, placing as the national runner up his sophomore year. Junior Sam Kerk ran 4:21, good for second place overall and Senior Kevin Peterson was 5th, running 4:24. Freshman Ethan Anderson set a personal record running 4:33.
"I feel like I took it out a little too fast which may have come back to bite me at the end," Whittle said. "But the race was a nice stepping stone for Sam, Kevin and Ethan going into the outdoor season. I am hoping to run a little bit better next week."
Whittle hopes to get his time down to a national qualifying standard when he runs at Stevens Point next weekend.
​The men's and women's distance medley relays both took the top spots, the men running 10:33 and the women 12:02, a time that currently ranks 9th nationally. Sophomores Stephen Tubergen, Stephen Nooregard, freshman Jeff Meitler and sophomore Josh Ferguson made up the men's team, while senior Kaylea Brase, juniors Olivia Butler, Rebekah Folkema and senior Jodi Hoekstra were the women.
​The women's 4×400-meter battled out a win over Trine, with a winning time of 4:07, on a team of junior Julie Busscher, sophomore Kelley Tuinenga, Butler and freshman Mckenzie Diemer. When asked how she ran, Tuinenga said "Oh guy, I went out faster than I had in the past, but I ran a good time. I was satisfied with the result."
​Other notable highlights were sophomore Christina Geating with a breakout performance in the pole vault, vaulting to a season best of 11-1, and Busscher sprinting to win in the 60-meter dash in a blazing 8.02 seconds.
​Next week, the athletes with a chance to qualifying for nationals will head to Stevens Point for a last chance meet. As the season comes to a close, every second counts, so give some encouragement to any track athletes you see during the week!