Calvin posts multiple nationally-ranked marks in track and field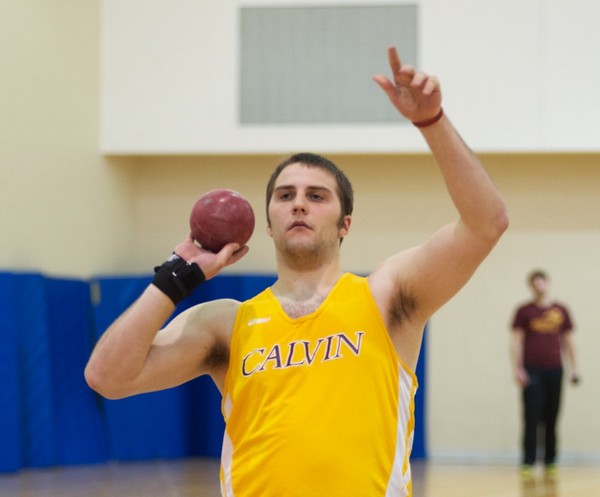 Three meets in seven days provides a lot of opportunity to post big marks on the national level, and Calvin's track team took full advantage.
At the Grand Valley State University Big Meet, senior Jodi Hoekstra posted a 5,000-meter time of 17:31.69 that has her ranked 21st on the national NCAA D-III indoor performance list. Sophomore Kimby Penning also had a nice race in a time of 18:29.75.
Senior Dan Kerr muscled his way to a 14:38 in his 5,000-meter race, and senior Job Christiansen finished with a time of 14:55.22 while junior Phillip Spitzer came in at 15:20.71 and sophomore Jacob Kuyvenhoven at 15:24.43.
The distance medley relays on the women's side had an especially strong showing, putting two girls teams in the race and placing them both nationally ranked in the top 25, 15th and 21st respectively. The race consists of four legs, a 1200-meter run, 400-meter run, 800-meter run, and 1600-meter run. Calvin's "A" team was made up of Hoekstra, freshman Mckenzie Diemer and juniors Olivia Butler and Nicole Michmerhuizen. The "B" team was not far behind and consisted of senior Kaylee Brase and sophomores Kelley Tuinenga, Rebecca Folkema and Kate Ardinger. Calvin is the only team to put two separate teams in the top 25.
At the Calvin Invite the team had a myriad of event winners including junior Julie Busscher in the 200-meter dash, sophomore Jordyn Platt in the 800, sophomore Lisa Schultz in the mile run, junior Alyssa Oram in the 3,000-meter run, sophomore Christina Geating in the high jump, junior Hilary Banning in the triple jump and long jump and Calvin's 4×400 meter relay team of Tuinenga, freshman Hope Hinken, freshman Kacie Van Hofwagen and Butler in a time of 4:18.17.
In the men's competition at the Calvin Invite, Calvin's winners were senior Gabe Gunnink in the 3,000, sophomore Erik Holstege in the 60-meter hurdles, senior Aaron Meckes in the shot put and Calvin's 4×400-meter relay team of Holstege, freshman Justin Dykema, sophomore Steven Norregaard and junior Calvin Kuyers also took first place in a time of 3:29.22.
Lastly was the GVSU Tune-up invitational where a few more nationally ranked performances were to be found. Meckes had a season best throw in the shot, good enough for 30th place nationally.
The women's mid-distance kept strong as Hoekstra broke 5 minutes in the mile with Ardinger not more than a few seconds behind. Hoekstra's time is currently 24th on the national list. The women's 800 was paced by Butler only .02 seconds in front of Folkema, good for 28th and 29th on the national ranking. Diemer and Brase both finished not far behind.
The men and women will be traveling to Trine for the Trine Invitational this weekend. The meet is traditionally against indoor conference foes and will be another great opportunity to move up in the national rankings on the 200 track.