Teams play to support breast cancer awareness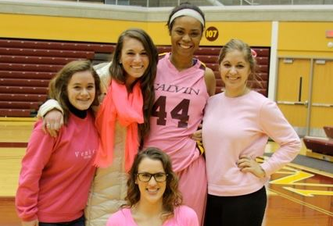 The Calvin women's basketball team showed their dedication to their teammates and family as they played in all pink to support the family of a JV team member.
Freshman Nikki Joseph's mother was diagnosed with breast cancer before the beginning of Calvin's school year, causing some emotional turmoil for Joseph. But her teammates have been there for her since the first day.
"It feels so amazing to support Nicki through this time," says sophomore Haley Stadnikia, "She has been so strong through this, and I love being able to support her. Our team has come together so much through this. We're right by her side whenever she needs us."
The past few weeks, the team decided to surprise Joseph with pink breast cancer awareness socks with her mother's name written on them to show their support for her and her family.
"When I saw the pink breast cancer socks that my teammates got me I was caught by surprise," said Joseph. "I felt so blessed that day to have their love and support."
"It felt good to know that the team was playing for Mrs. J that night," said freshman Emily Veenstra. "It was like we were able to connect more on a deeper level; not only as a team, but as a family."
But their support didn't end there. The next day, head coach John Ross gave permission for both the varsity and JV teams to wear the program's pink uniforms in honor of not only Joseph's mother, but anyone they know who has or had cancer.
"The feeling I had when I put that pink jersey on and put on those socks with those names on them was incredible," says Stadnikia. "To some people wearing pink is a fashion statement, and used to get attention, but for us it's personal. It's all about the bigger picture. Personally, my aunt died of breast cancer my sophomore year of high school, a dearest teacher of mine died of it just a year after I graduated, and not to mention the multiple amazing, strong women I know who are fighting the battle."
The JV team played in the pink jerseys last week at their last home game against Olivet. Joseph's mother wasn't able to attend, but multiple members of her family and community were able to come and show their love and support for her. JV coach Courtney Kurncz also brought her young nephew who has been fighting cancer for about a year.
"The pink game meant so much to me and my family," said Joseph. "The love and support that I have gotten here while at Calvin has just been so nice and has been a huge blessing."
While Joseph is part of the JV team, the whole basketball program has been there for her this season, and continued to do so at the varsity's pink game Wednesday night.
"Words can't even describe how I feel to have my teammates support through these hard times with my mother," says Joseph. "I thank God everyday for being blessed with such great teammates that I can talk to and pray with through it all. I have grown so much with my team and not only have them as teammates but have them as a family."
"It has definitely brought us all a bit closer," says Veenstra, "and I am now reminded not to take this life for granted."