Women's basketball continues streak of 19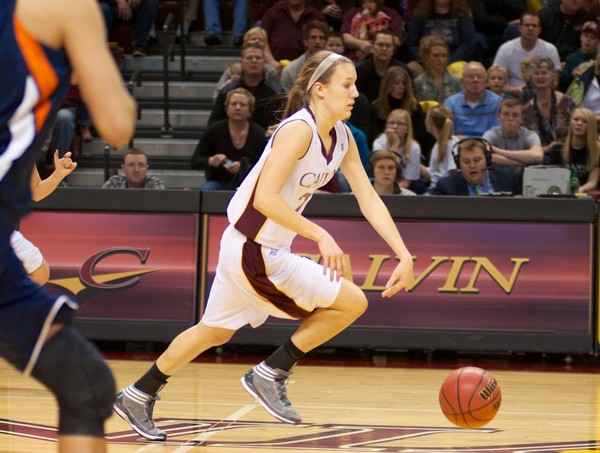 The Calvin Knights women's basketball team continued their winning streak last week, defeating three MIAA conference teams by double-digits and improving their overall record to 21-1 for the season so far.
"I don't think any of us really think about our win streak or our record much," says senior Julia Hilbrands. "We just approach each game the same and go out to play hard and get the job done. And if we just keep working hard and playing as a team, I think we'll continue to be successful and we'll be pretty tough to stop."
Calvin played against Trine last Monday after the poor weather conditions postponed the game from Saturday. This did not faze the Knights, who were able to win 86-50.
"We just take things one game at a time," explained senior Ally Wolffis. "We have goals we set for every game and pride ourselves in reaching those goals."
Leading the scoreboard for the Knights was senior Carissa Verkaik, putting in 20 points for the night. Wolffis had 11 for the night while Hilbrands and sophomore Breanna Verkaik both made their mark with 10 each. The Knights were able to out-rebound Trine as a team 43-29.
"We really enjoy being together on and off the court and are at our best when we all play together," says senior Kelsey Irwin, "We plan to continue working on having everyone bring their best every night and to really focus on our defense knowing that our offense is at its best when our defense is sparking it."
Fans could definitely see the team's chemistry Wednesday night when the Knights travelled to Indiana and got the 84-54 win over St. Mary's.
Carissa Verkaik again led the Knights in points, putting up 19 for the night. Hilbrands also was able to put in 15 for the Knights, while Irwin chipped in with 9. The Calvin women were able to outshoot St. Mary's as a team, shooting 46.5 percent total while the Belles only were able to shoot for a 33.3 percent.
But two wins in one week just wasn't enough for the Knights. Calvin hosted Olivet in their own Van Noord Arena Saturday afternoon, and were again able to pull off a double-digit win.
"We really are just trying to take every game one game at a time and focusing on that opponent," says Irwin, "We will have no regrets if we gave it our all for a game and have prepared well for it."
Carissa Verkaik led the Knights, scoring 32 points and earning 8 blocks for the afternoon. Hilbrands and sophomore Maria DeKuiper both put in 11 for Calvin, Wolffis was able to put in 8, and sophomore Kayla Engelhard chipped in with 7. Although the Comets out-rebounded the Knights on their defensive end 32-31, the Calvin women made up for it on the offensive end, ripping down 19 boards while the Comets were only able to come down with 11.
The Calvin women are now on a 19 game winning streak, but they refuse to let that go to their heads.
"It feels great to be on the win streak right now, but our motto has always been just to take it one game at a time and not focus too much on the future," says Breanna Verkaik, "I know that we could go pretty far and I have confidence in our team, but we need to stay focused on the here and now and not take any game for granted."
The Knights will host Adrian Wednesday night in Van Noord Arena at 6 p.m.