Women's basketball demolishes Kalamazoo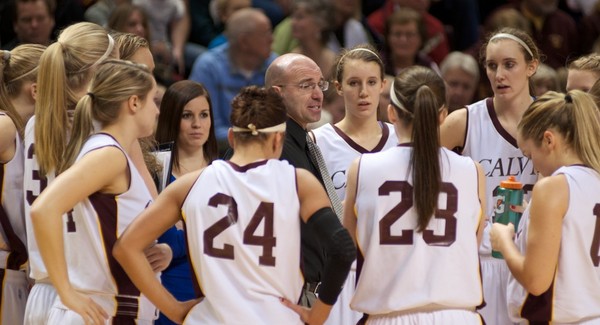 Hang on for a minute...we're trying to find some more stories you might like.
Last Wednesday, the Calvin women's basketball team traveled to Kalamazoo College to face the struggling Hornets. In a decidedly lopsided game, the Knights (18-1, 11-0 MIAA) crushed the Hornets (2-18, 1-11 MIAA) 92-35 to remain undefeated in MIAA play.
The game was never close — the Knights started with a 6-0 run in the first two minutes and never looked back. Shooting a blistering 65 percent from the field, 71 percent from three-point range, Calvin quickly ran up the score during the first half while their defense shut down Kalamazoo, holding the Hornets to 24 percent shooting and forcing 15 turnovers. At halftime, the Knights led 49-13 while senior Carissa Verkaik led all scorers with 12, only one fewer than the entire Hornets team, and presented a dominating presence on defense with four blocks.
The second half was more of the same as Calvin continued to run up the score, dropping another 43 points, while playing great defense, holding the Hornets to 25 percent shooting while forcing another 13 turnovers. The huge lead built up in the first half and continued great team effort allowed coach Ross to rest his starters for most of the second half.

"It was important to play well and get a big lead because we're nursing some injuries right now," said Calvin head coach John Ross.
As a result the bench stepped up, scoring 47 points and finishing out the game. Sophomore Hannah Acre led bench scoring with 13 points and converted on all five of her free throws. She also finished with a game high nine rebounds in just 13 minutes of playing time.
"The starters and people that played ahead of me got great momentum going in the game and it only seemed natural to roll off that," Acre said. "At halftime Coach Ross talked about having confidence in everyone that he put on the court, so it's always encouraging knowing that every shot you take there's the whole team backing you up and believing you can make it too."
Even after such a large, blowout victory, Acre does not think that the team will struggle with complacency because they all realize areas where they can improve and they have set their goals higher than simply winning a game, she says.
"We come to the gym every day and work just as hard as the day before regardless of how the game went the night before," said Acre. "We have very high expectations of ourselves and can't afford to become complacent because our goals demand more from us than what we have right now."