Men's basketball continues MIAA dominance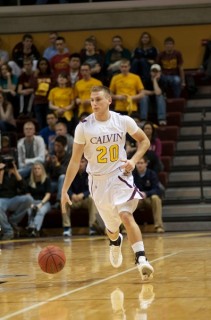 The Calvin College men's basketball team continued their winning streak last week, beating both Albion and Kalamazoo, improving their record to 19-2 and 10-0 in the MIAA conference.
"We try not to think too much about our record so it doesn't get in the way of our ultimate vision/goal for the season," said senior Brian Powell. "If the season ended now we would be satisfied; but it doesn't, so we still need to remain focused. Much of our success comes from those that you don't see in the paper. If it wasn't for them, we wouldn't be where we are."
The Calvin men started off Wednesday night struggling against Albion, remaining either tied or trailing the Britons for 13 minutes into the first half. The Knights were able to turn it around, however, and went into the locker room at the half with a 44-25 lead.
"We did not come out with the intensity and focus that we needed to," said sophomore Jordan Brink. "Albion is a good team and made us pay for that. We eventually got it going and played pretty well to close out the first half."
The Knights continued their streak in the second half, and got the 83-63 win over the Britons. Powell finished with a game-high 17 points on 6-10 shooting.  Brink scored 14. Junior Tyler Kruis also chipped in with 12 points and eight rebounds.
As a team, the Knights were able to dish out 18 assists and only eight turnovers for the night, while out-rebounding the Britons 27-22. Calvin out-rebounded Kalamazoo 67-28, and held the Hornets to just 23.9 percent shooting from the field.
The Knights carried that intensity to their game Saturday against Kalamazoo College, beating the Hornets 92-50.
Kruis finished with 27 points and 12 rebounds, two points away from tying his career high, while Powell finished with 17 points and five assists.  Senior Tom Snikkers also put up with 16 points and grabbed seven rebounds, causing him to move into 11th place on Calvin's all-time scoring list with 1,341 points.
"It feels great to start 10-0 in conference but we know that we have tough games ahead of us," says Brink, "We have done a great job this year of focusing on the next play and next game instead of dwelling on what has happened."
The Calvin men return to action Wednesday, Feb. 6, when they travel to Alma for a 7 p.m. contest against the Scots.