Track team travels to Olivet Nazarene for NCAA vs. D-III Invite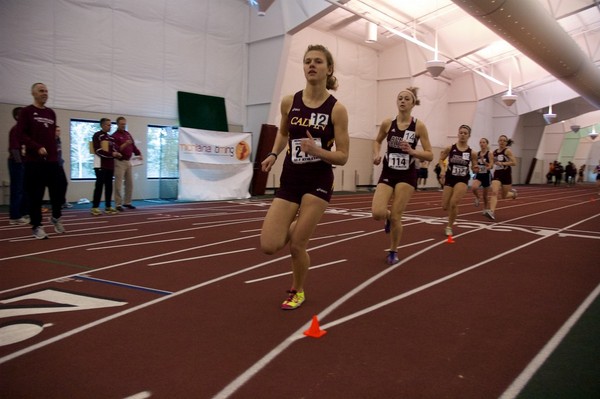 Calvin's track and field team travelled to Kankakie, IL for the NCAA versus D-III Invitational on Saturday. The day was littered with fantastic performances, including five individual victories.
Leading off the day was junior Nicole Michmerhuizen, dominating the 5000 meter race in a winning time of 16:58, more than a minute faster than second place. She led the entire 5000m, taking the first mile out in 5:18. The time set an indoor school record, a very impressive performance this early in the year.
Senior Dan Kerr won the men's 5000m in 14:40, the first of a Calvin sweep of the top four places.  Senior Job Christiansen went 14:42, Greg Whittle went 14:54, and Dave Vandebunte went 14:58. "It was a good team effort," said Vandebunte. "We stayed together through two miles. It was a good start to the indoor season."
As the meet wore on another stand-out performance was delivered by senior Jodi Hoekstra, winning the mile in 5:09. The race wasn't decided until Hoekstra ran away from the field with two laps to go, bringing sophomore Kate Ardinger and senior Kaylea Brase (who placed second and sixth) along. Hoekstra is using her final season of eligibility to compete for Calvin's indoor track team, as she spent the cross country season coaching.
Junior Olivia Butler handled the field in the 800m in a time of 2:20, followed by junior Rebecca Folkema in second and freshman McKenzie Diemer in fourth, both finishing very close in about 2:21. This was Folkema's first indoor race of the season, and the first indoor 800 for Diemer of her young freshman career. When asked how she felt about her race, Butler said, "I actually stepped up and led this race, and it was awesome that we could run in a pack. I loved seeing all the Calvin women up front."
Calvin wasn't done dominating the distance events. To finish off the Calvin victories was Senior Kevin Peterson taking the 3000m in 8:54, immediately followed by sophomores Steven Haagsma and Jacob Kuyvenhoven. "I think we competed well in a bit of a strange race," said Peterson, "I was happy we were able to take the top three spots even though we started out a little slow."
Head coach Bret Otte felt good about the day, mentioning other standout performances and personal records for athletes.  "We competed well," he said.  "It's one thing to go for a time trial; it is another to compete. Some of that is being willing to take risks. Sophomore Paige McGahan PR'd in the 3000 and junior Julie Busscher PR'd in the 60 and was third overall. Freshman Jon Cok high-jumped 6'3" and sophomore Eric Holstege PR'd by a foot in the long jump and senior Aaron Meckes was second in the shot."
The team scores were not tallied, but Calvin's five individual victories were a good start to the indoor season.