The Rivalry: Five Things to Watch For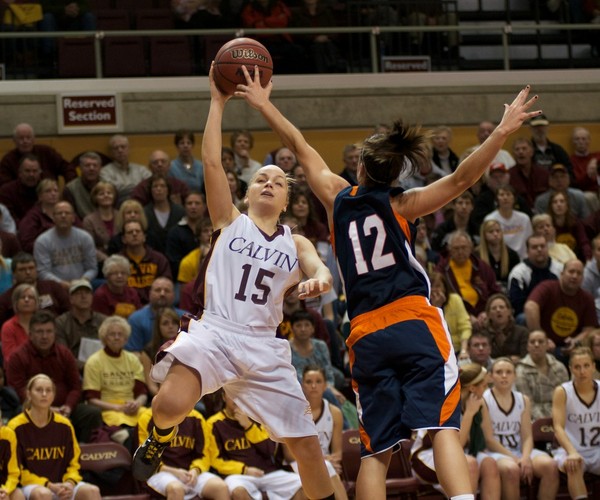 Hang on for a minute...we're trying to find some more stories you might like.
Tonight's Calvin-Hope women's basketball game faces off two of the best teams in the nation in one of the most heated rivalries in the country.
In the 47-year history of the women's basketball rivalry, the No. 2 Knights lead the series with a record of 65-39 against the No. 6 Dutch. However, since 2000, Hope leads the series 24-8.
Whether you're watching in the arena or online, here are our five things to watch for:
1. Hope's Defense. Hope has one of the top defenders in the country in Liz Ellis. Since she's a senior this year, she knows Hope's team dynamics backwards and forwards. Watch for her to provide leadership and intensity for the Dutch on the defensive side of the ball.
2. Calvin's Carissa Verkaik. The senior captain was named D-III pre-season MVP. Hope knows the key to winning is to guard her, but it has never worked in the past and it won't work tonight. There is a reason why she is the only player to be named MIAA MVP three years in a row.
3. Shooting from the outside. In the past few years, the key to beating Hope's strong defense has come down to shooting from the outside. Teams have had trouble penetrating Hope's defense to get inside so watch for a lot of shots from beyond the arc. Calvin is strong at distance shooting, especially Kelsey Irwin. The only shots she takes are threes and she is one of the D-III leaders in this area.
4. A physical game. This is a Calvin-Hope game – when is it not physical? The rivalry is heated and the players know what is at stake. Bodies will be flying.
5. A strong crowd presence. Calvin-Hope games always draw a crowd. Since both schools rank in the top teams in the nation, the stakes are raised even higher. Calvin Game Day staff helps greatly with getting the student body out to support.
If you can't attend the game, you can watch online or follow the Chimes coverage on Twitter. Watch for photos and the full story after the game.