Women's basketball extends winning streak to 10 games over Trine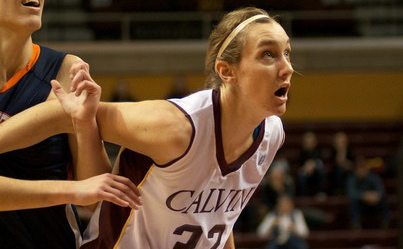 The Calvin Knights Women's basketball team claimed a 64-36 win at Trine University Saturday afternoon, improving to a 11-1 record overall and a 5-0 record in the MIAA. The Knights were carried through the first half by senior Kelsey Irwin's hot shooting streak, then were able to use stifling pressure on defense to guarantee the win.
While the Knights led going into the half, the Trine women were able to keep within a 15 point gap, only trailing 37-23. Trine, however, had difficulties getting past Calvin's strong defense in the second half. The Trine Thunder were unable to score for the first 7:32 of the second half and were outscored 27-13. Irwin led Knights with points, scoring a career high of 15. Following close behind was senior Carissa Verkaik with 13, sophomore Kayla Engelhard put up 9 and sophomore Abby VanderWoude chipped in with 6. The Knights also dominated the boards, out-rebounding Trine 48-38.
Irwin went 5 for 6 from the three point line in her first half. Scoring these 5 3-pointers moved Irwin past 1995 graduate Cheryl Essenburg and into second place on the Calvin career three-point field goal list. After Saturday's game Irwin now has 155 triples over her career at Calvin while only recording one pair of two-point field goals.  Kristen McDonald (2005 grad) is Calvin's career three-point field goal leader with 187.
"I thought Kelsey really gave us a big boost in the first half," said Calvin women's basketball coach John Ross. "We were just 6-of-22 from three-point range and Kelsey hit five of our six so that's pretty big. I thought our defense in the second half was also very good. I also want to credit Trine's effort today. They were a little short-handed today but they still gave their best effort.
With this win over Trine, the Knights now own a 10-game winning streak. They will host Rochester College next Wednesday in Van Noord Arena at 7:30 pm.