Women's basketball earns wins over Thanksgiving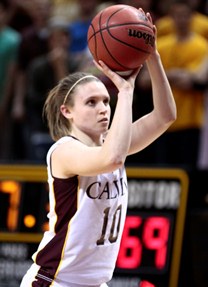 The Calvin women's basketball team came off their first tournament strong, working well together to pull in three more wins over the holiday week.
"This group of players really like each other," said head coach John Ross. "They all work really hard trying to reach our goal."
The Knights were able to come back from their tournament completely focused and had a strong 77-45 win over the visiting Manchester Spartans.
"It was a solid performance," says Ross. "I was happy with our defensive effort. We still have some things we need to improve upon but we'll continue to get better. We have two very challenging games this weekend so we'll need to raise our level of play."
Senior Carissa Verkaik put up her 39th career double-double, totaling 19 points and 14 rebounds for the night and while also blocking three shots and getting two steals. Senior Ally Wolffis helped inside the post with 10 points. Senior guard Logan Marsh also had 10 points, four assists, and three steals for the Knights while sophomore Hannah Acre chipped in with a career-high total of eight points.
The Knights were able to carry the excitement of their win over Manchester with them to Kentucky over the break, where they were able to defeat Thomas Moore in overtime during the first round of the Julie Costello Memorial Classic.
Behind by double-digits with three minutes left in the second half, the Knights were able to make a tremendous comeback to pull off an 84-75 overtime win. Senior Kelsey Irwin hit a game-tying triple in the last seconds of the second half and the Knights rolled into overtime. The Knights were led on offense by sophomore guard Kayla Engelhard, who scored a career high 37 points and pulled down seven rebounds. Verkaik earned a near triple-double with 16 points, 17 rebounds and eight blocks. Irwin added 11 points to the mix.
The Knights pushed on with their winning streak as they took down Centre College 76-48 less than a day after their overtime defeat of Thomas Moore.
Verkaik led the team with 20 points, six rebounds and five blocks. Sophomore Kayla Engelhard added 14 points while Irwin scored nine. Senior Heather DeKleine chipped in eight, and freshman Abby Springer with seven. Wolffis pulled down 12 rebounds for the Knights, five on the offensive glass. Both Verkaik and Engelhard were named to the All-Tournament team, with Engelhard earning MVP honors for her combined 51 points in a pair of games against Thomas More and Centre.
Ross was very happy with the team's performance for the week.
"We have 10 players back from last years' team and our main goal was to continue to get better each and every day, and be competitive in all our games, which I believe we did this week," says Ross.