Verkaik sets Calvin's women's all-time scoring record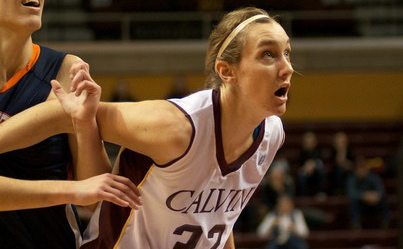 Verkaik led Calvin with 14 points last weekend against Wisconsin-Stevens Point, passing Lisa Winkle to become Calvin's all-time leading scorer with 1,734 career points.
"I couldn't have done it without the great people around me," says Verkaik, "Ever since my freshman year on varsity I've had great teammates and coaches around me. I'm just so thankful God gave me these abilities."
The Calvin Knight's women's basketball team took to the road this weekend for the opening tournament of their season.
After a long battle, the No. 1 Calvin held No. 3 St. Thomas in a first round game of the Millikin Coaches vs. Cancer Tournament.
"It was nice to play against some tough teams right away this weekend for our season opener," said senior Carissa Verkaik.
The Knights kept the game close the first ten minutes of the game, never leading or trailing by more than three points. With nine minutes left in the first half, however, the Knights began to pull away, and ended the first half up 42-26.
Calvin kept a strong lead well into the second half, but St. Thomas answered back with ten minutes left, coming within five points of the Knights. The teams matched each other point for point after that. Even with the strong comeback by St. Thomas, however, the Knights pulled off the 78-72 win.
"We came out strong against St. Thomas," says Verkaik. "We played a great game with great defense."
Senior Carissa Verkaik led the Knights with 23 points. Sophomore Kayla Engelhard had a career-high 21 points for the Knights while senior Ally Wolffis had 10 points and senior Kelsey Irwin chipped in with 9 points.
In their second game of the tournament, the Knights were unable to overcome No. 7 Wisconsin-Stevens Point and lost 84-63.
"We didn't come out nearly as strong for the Wisconsin-Stevens Point game as we did for the St. Thomas game," says Verkaik. "We didn't play as good defense as the first game. But this game definitely showed us what we need to work on as a team this year."
Wisconsin-Stevens Point held a solid 45-25 lead at halftime and were able to maintain a healthy lead throughout the rest of the second half.
Senior Logan Marsh was the only other Calvin player to reach double-digits in scoring as she put up 11 points, including three triples.
"I'm sure we will be able to pull it together and play well next week when we get back," says Verkaik.