Volleyball defeats Heidelberg and Mt. Union in opening rounds of tourney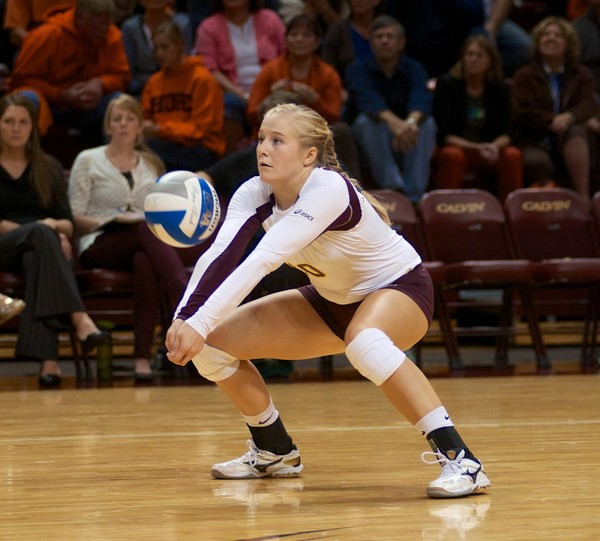 Hang on for a minute...we're trying to find some more stories you might like.
Calvin's volleyball team hosted Heidelberg in the first round of the NCAA tournament on Nov. 8, winning in three sets: 25-15, 25-13 and 25-17.
Calvin hit a .373 with 44 kills and held Heidelberg to .092 and 27 kills. Senior Lizzie Kamp led the team with 14 kills. She also had two aces. Junior Megan Rietema had 29 assists, 10 digs and nine kills. She led the team with a .538 hitting percentage.
Senior Kelly Gordon led the Knights with 14 digs and senior Kristen Zietse was right behind her with 12 digs. The Knights had seven blocks and hit around the Student Princes, only being blocked once. With this win, the Knights moved on to the next round playing Mt. Union on Friday night.
The Purple Raiders took the Knights to five sets. The Knights took the match 25-12, 23-25, 25-21, 24-26 and 15-6.
Calvin once again out-hit Mount Union .280 with 80 kills to .149 with 47 kills. Calvin had 27 attack errors and Mount Union had 22. The Knights were led in kills by Kamp with 29, freshman Maggie Kamp with 17 and senior Rebecca Ratkov with 10.
Rietema had 67 assists. Zietse had 21 digs followed by Rietema with 15, senior Jen Pluymert with 14, and Lizzie Kamp with 13.
With this win, the Knights were able to qualify for the regional final against Wittenberg. The winner of the Wittenberg/Calvin match has gone on to win the national title after their past two meetings.