Men's cross country takes regional championship, women take third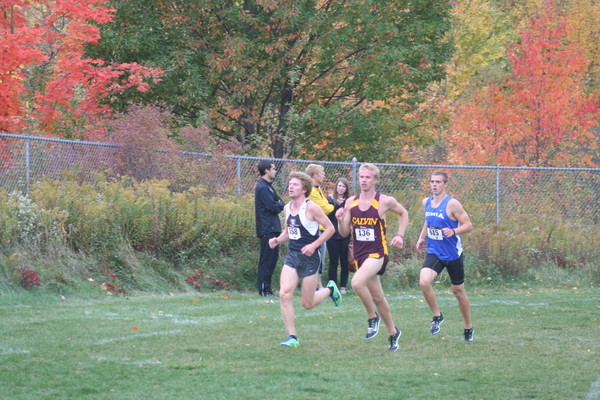 The Yule Golf course in Alexandria, IN was the setting for the second-place nationally ranked men's team to win their 17th consecutive regional title and qualify for nationals while the No. 6 ranked women placed third, only 12 points out of first place.
On the men's side, the top 15 places were littered with Calvin runners. Senior Dan Kerr was in dominant form, dueling with Bill Jones from St. Francis in the second half of the race for the honor of regional champion. Both runners took turns leading, and Jones barely edged out Kerr across the finish line in 24:26. After the race the two could be seen chatting and taking pictures together, not an unusual activity for Kerr, who is in his fifth year of racing.
Senior Nick Kramer, who hadn't raced in two months, stuck with the chase pack and finished fourth in 24:49. Senior Job Christiansen ran alone almost the entire race between the chase pack and a large pack behind him, holding his own in a very talented field and finishing in sixth place with a time of 25:13.
Just outside of the top ten in 11th was senior David Vandebunte in 25:26, in the midst of a breakout season himself. Thirteenth was senior Matt VanderRoest in 25:29. Junior Greg Whittle was 24th in 25:56 and junior Sam Kerk completed the team in 26:06. The team scored 36 points, which was more than enough for the win.
The race marked the returns of both All-American and steeplechase national champion Nick Kramer, recovering from a femoral stress-fracture, and All-American Matt VanderRoest, who had shin problems. Kramer hadn't raced since the first race of the year, the Knight Invite, which he won with ease. Both athletes will be key ingredients in the quest for a national title next week.
"We had a very encouraging men's race," said Calvin head coach Brian Diemer. "Nick Kramer and Matt VanderRoest were our wild cards going in and they were terrific. The challenge now is to keep those guys going for one more week and I'm confident we can do that. Our team is very excited and looking forward to the challenge of racing for a championship next week."
The fifth-place nationally ranked women's team had a few positives as well, but they didn't quite do enough to get the automatic qualifying bid for nationals. Hope's women won the meet with 91 points. Oberlin took second with 95 points. Calvin grabbed third with 103 points.
Two women finished in the top ten; junior Nicole Michmerhuizen finished fifth in 21:49 and senior Alyssa Penning finished ninth in 21:59. A breakout race from sophomore Kate Ardinger was a highlight for the girls' team, placing 18th in 22:16. In 36th was sophomore Kimby Penning, and 38th was freshman Mackenzie Diemer to round out the scoring. Junior Alyssa Oram finished 42nd and Lizzy Vannette 63rd.
"We had a little separation with our second group," Diemer said. "The key for our runners is to stay in contact with a teammate and we got broken up a bit with that strategy. We are still hopeful that our team will receive an at-large selection for next week and if that happens, we will use the lessons learned today next Saturday."
This weekend both teams will be competing for national titles in Terre Haute, IN. The men are looking to end their six-year title drought and the women hope to get back on the podium.