Women's soccer falls to Kalamazoo, still leads MIAA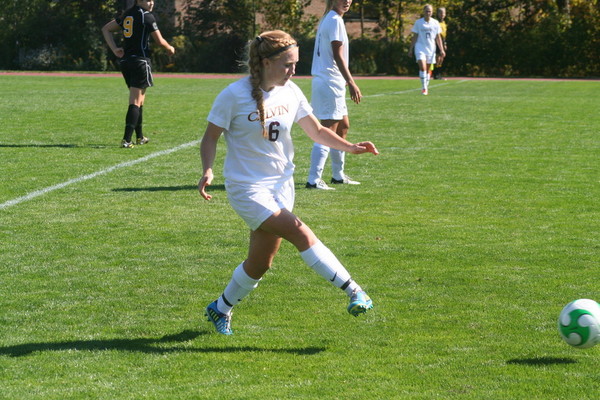 Ending the first half with a lead of 4-0 wasn't enough for the Calvin Knights women's soccer team Tuesday night against Albion. Coming out to the second half just as strong as the first, the Knights pulled off a 9-0 win over the Britons.
"We came out really tough and kept it up the entire game," said freshman Leesha Gunnink. "We carried our intensity through the entire game and it felt great."
The big win at Albion moved the team to a 11-3-1 record overall and to a 10-2-1 record in the MIAA. The Calvin women's soccer team remains in first place in the MIAA conference.
Playing goalkeepers for the Knights and helping to keep the game a shutout were junior Ashton Hearn, freshman Lauren Merz and Gunnink.
Junior Danielle Carter and freshman Christina Drost each chipped in with two goals apiece, while seniors Francesca Smith and Liz Cancel, juniors Heidi Scholten and Kelly Koets and freshman Sydney Kinney also scored for the Knights.
Despite outshooting the Kalamazoo Hornets 15-14 Thursday night, the Knights were not able to make one fall and were beat by one several minutes into overtime play.
"We just couldn't put a shot in," said Gunnink. "We pushed to the end, but it just didn't go our way."
Despite the loss, the Knights still remain in first place in the MIAA conference with 31 points.  Hope and Kalamazoo are currently tied for second with 29 points while Adrian has 28.
The Knights plan to take on Adrian at the Bulldogs' field on Oct. 31 at 4 p.m.